The following article is from the National Right to Work Legal Defense Foundation's bi-monthly Foundation Action Newsletter, November/December 2018 edition.
Cases seek to strike down laws that let union bosses block workers from stopping dues payments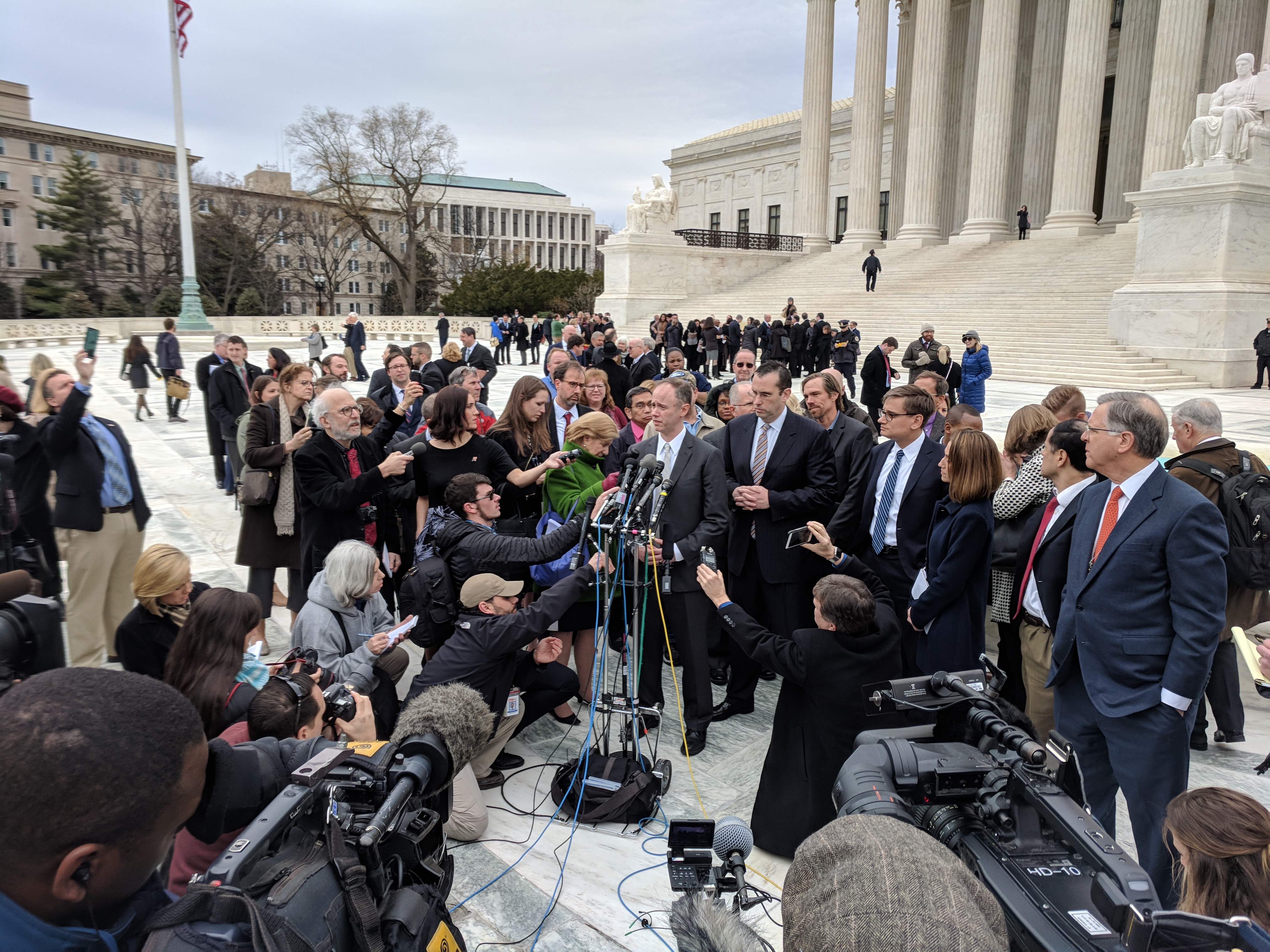 Foundation staff attorney William Messenger argued Janus at the Supreme Court. The Foundation's victory must be vigilantly enforced.
SPRINGFIELD, VA – Since the 2012 passage of Right to Work legislation in the Wolverine State, Foundation staff attorneys have provided free legal assistance to Michigan workers in more than a hundred cases. With 41 ongoing cases and another 61 closed as of the publication of this article, Michigan cases continue to make up a disproportionate amount of the Foundation's caseload of approximately 220-230 active cases at any given time. Developments in Foundation legal cases in recent months show that despite dozens of victories for workers, Michigan union bosses continue to attempt to force workers to pay dues despite the Right to Work laws.
These federal lawsuits are among dozens of legal actions workers have pursued, with the assistance of Foundation staff attorneys, to enforce the Supreme Court's Janus ruling. As decades of Foundation litigation has amply demonstrated, without relentless enforcement, Big Labor ignores precedent and violates the rights of rank-and-file workers.
California Court Worker Sues to Exercise Janus Rights
In California, Foundation staff attorneys are assisting Mark Smith, a court worker in Contra Costa County, who attempted to exercise his new protections days after the Janus decision.
Mr. Smith submitted his resignation from membership in American Federation of State, County, and Municipal Employees (AFSCME) Local 2700 and told union officials they did not have his authorization to deduct union dues from his paycheck.
AFSCME officials continued siphoning Mr. Smith's hard-earned money without his consent and despite his multiple attempts to resign. When Mr. Smith sent his resignation via certified mail, postal service records show union officials left the delivery unclaimed.
After his requests were repeatedly ignored, Mr. Smith came to Foundation staff attorneys for free legal aid in filing a federal lawsuit against AFSCME officials and his government employer.
In the complaint, Mr. Smith challenges union officials' violation of his First Amendment rights and a California law requiring public employers to deduct dues at the union's request, even if the worker revokes authorization. This egregious law, enacted mere hours after the Janus decision, also blocks public employers from informing employees of their Janus rights.
Pennsylvania School Bus Driver Blocked from Resigning Union Membership
In Pennsylvania, school bus driver Michael Mayer attempted to exercise his rights under Janus just weeks after the ruling. He resigned his membership in the Teamsters union on July 20 and hand-delivered a notice in August demanding that his employer stop deducting membership dues from his paycheck.
However, Teamsters Local 312 officials refused to honor his resignation, and his employer, Wallingford-Swarthmore School District, continued withdrawing union dues from Mr. Mayer's hard-earned wages.
Teamster bosses claimed Mr. Mayer only had a 15-day window to escape from the union's new monopoly bargaining contract under a section of Pennsylvania's Public Employee Relations Act (PERA). Such a policy directly conflicts with the Supreme Court's Janus ruling, which held that dues taken without workers' clear and knowing affirmative consent violate the First Amendment.
When dues continued to be seized from Mayer's paycheck in September, Foundation staff attorneys filed a federal lawsuit against the Teamsters union and the school district for violating his rights.
The lawsuit seeks a refund of the dues that the Teamsters conspired to take without his consent after his resignation and asks the court to rule that the PERA violates his First Amendment rights by restricting his ability to resign union membership and stop paying dues.
"Unfortunately, though not surprisingly, rather than work to earn the voluntary support of the workers they claim to represent, union officials coast-to-coast are resorting to illegal schemes to block workers from exercising their rights under the Janus decision," said Mark Mix, president of the National Right to Work Foundation. "These cases likely won't be the last challenging attempts to prevent workers from exercising their Janus rights."