The following article is from the National Right to Work Legal Defense Foundation's bi-monthly Foundation Action Newsletter, March/April 2023 edition. To view other editions of Foundation Action or to sign up for a free subscription, click here.
Union officials sought to coerce membership by preventing non-members from defending their jobs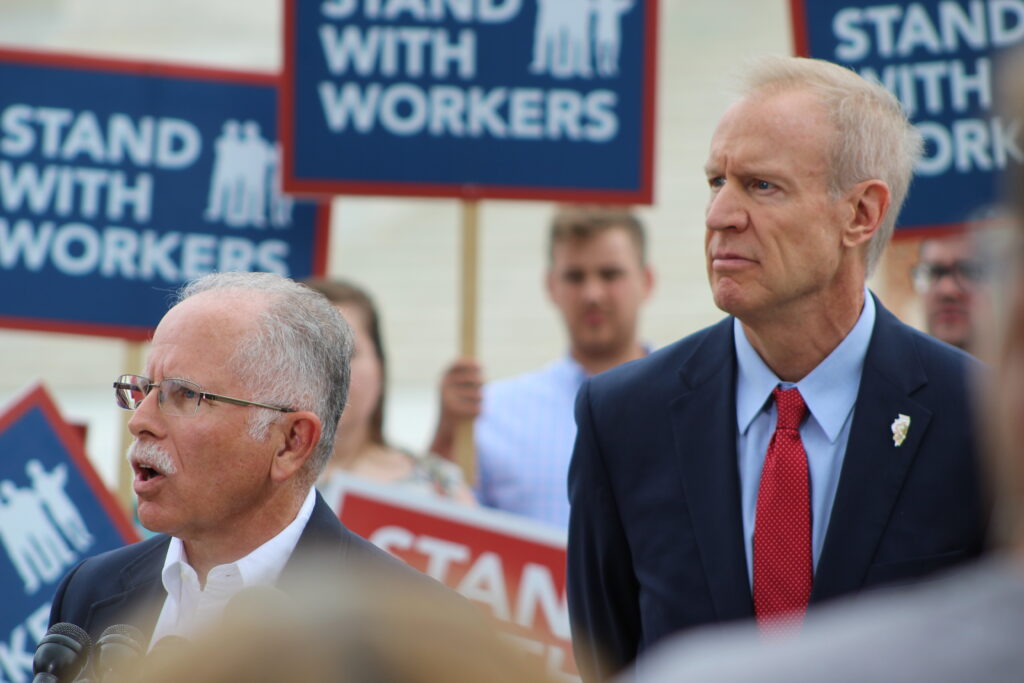 Foundation attorneys aided Illinois public employee Mark Janus with former Illinois Governor Bruce Rauner (right) in his landmark First Amendment victory. But Foundation attorneys often must fight to enforce Janus rights, as in Chris Logan's case.
CHICAGO, IL – The National Right to Work Foundation's landmark Supreme Court victory in Janus v. AFSCME was a milestone for public sector workers. For the first time, the Court recognized that every American public sector worker had the constitutional right to cut off dues to a union they oppose.
Even with this important First Amendment protection, however, union bosses unfortunately still wield an enormous amount of power over workers who have ended their affiliation with the union. Because of laws that authorize monopoly union "representation" in the public sector, union officials still have significant control over independent-minded employees' working conditions, pay, benefits, and more.
City of Chicago aviation security officer Chris Logan discovered just how painful Illinois Council of Police (ICOP) union bosses could make life for him after he exercised his Janus rights. In 2020, following a dispute about his job performance, Logan took action to protect his job under the terms of his employment contract, only to have union bosses exploit the opportunity to attack Logan. The union would not allow Logan to file a grievance to protect his job unless he joined the union.
Officer Challenges Discriminatory Grievance Scheme with Foundation Aid
"ICOP union officials basically tried to force me to join and pay dues to the union by making it impossible for me to defend my job otherwise," commented Logan. "I exercised my Janus rights and left the union because I didn't think that ICOP officials were good 'representatives' of me or my coworkers."
"Instead of trying to win back my support voluntarily, union bosses used their power to deprive me of all options when I tried to defend my job — I couldn't even file or arbitrate a grievance myself," Logan added. "In my mind, that simply confirms I made the right decision when I left this union."
However, with free legal representation from National Right to Work Legal Defense Foundation staff attorneys, Logan won a decision from the Illinois Labor Relations Board (ILRB) in late 2022 that decisively declared ICOP officials' "members only" grievance scheme illegally discriminatory against non-members.
Logan first exercised his Janus rights in October 2019, telling the union by letter that he no longer wished to pay union dues. Throughout 2020, Logan faced allegations about his job — possibly instigated by union militants. Per the union monopoly agreement he was subjected to, he tried to get union officials to fulfill their role, as monopoly "representatives" of the workplace, to file grievances challenging the City of Chicago's disciplinary actions against him.
Union officials who maintain "monopoly bargaining power" in a workplace can legally impose their control over every worker, even those who have disaffiliated with the union. Because of this privilege, however, they are also legally obligated not to discriminate against non-members when it comes to grievances or other matters. However, as Logan discovered, union officials regularly ignore this "duty of fair representation."
Union Officials Completely Ignored 'Fair Representation' Legal Obligation
ICOP union officials summarily rejected all of Logan's requests to file grievances, and even told him that he could not file grievances himself. At one point, after an ICOP union official sent Logan an email falsely claiming the union had no legal obligation to participate because Logan had exercised his Janus rights, the ICOP lawyer chimed in to tell Logan, "I concur. Good luck." The union stated it would not file grievances for Logan simply because he was a non-member.
Logan filed unfair labor practice charges against ICOP and the City of Chicago in August 2020, maintaining that the union's actions were illegal. An ILRB Administrative Law Judge agreed with Logan's charges in May 2022, declaring that ICOP "violated [Illinois labor law] when its agents restrained or coerced the Charging Party in the exercise of rights . . . by threatening to deny the Charging Party equal representation in the disciplinary and grievance matters." The ILRB later adopted this ruling, leading to Logan's Foundation-won victory when union officials did not attempt to appeal the decision to Illinois state court.
Monopoly Bargaining Powers Open Door to Corruption
"Union bosses maintain unilateral control over workers under a 'monopoly bargaining' regime," commented National Right to Work Foundation Vice President and Legal Director Raymond LaJeunesse. "For public sector workers across the country, Janus is the only check they can use against this power, and even then they could face retaliation for doing so."
"Cases like Mr. Logan's, where union bosses used their bargaining powers to discriminate against a worker who exercised Janus rights, ought to make our elected leaders reconsider how much privilege our laws grant unions," LaJeunesse added.