The following article is from the National Right to Work Legal Defense Foundation's bi-monthly Foundation Action Newsletter, July/August 2020 edition. To view other editions or to sign up for a free subscription, click here.
Foundation attorneys filed 10 legal briefs defending Right to Work from union boss legal attack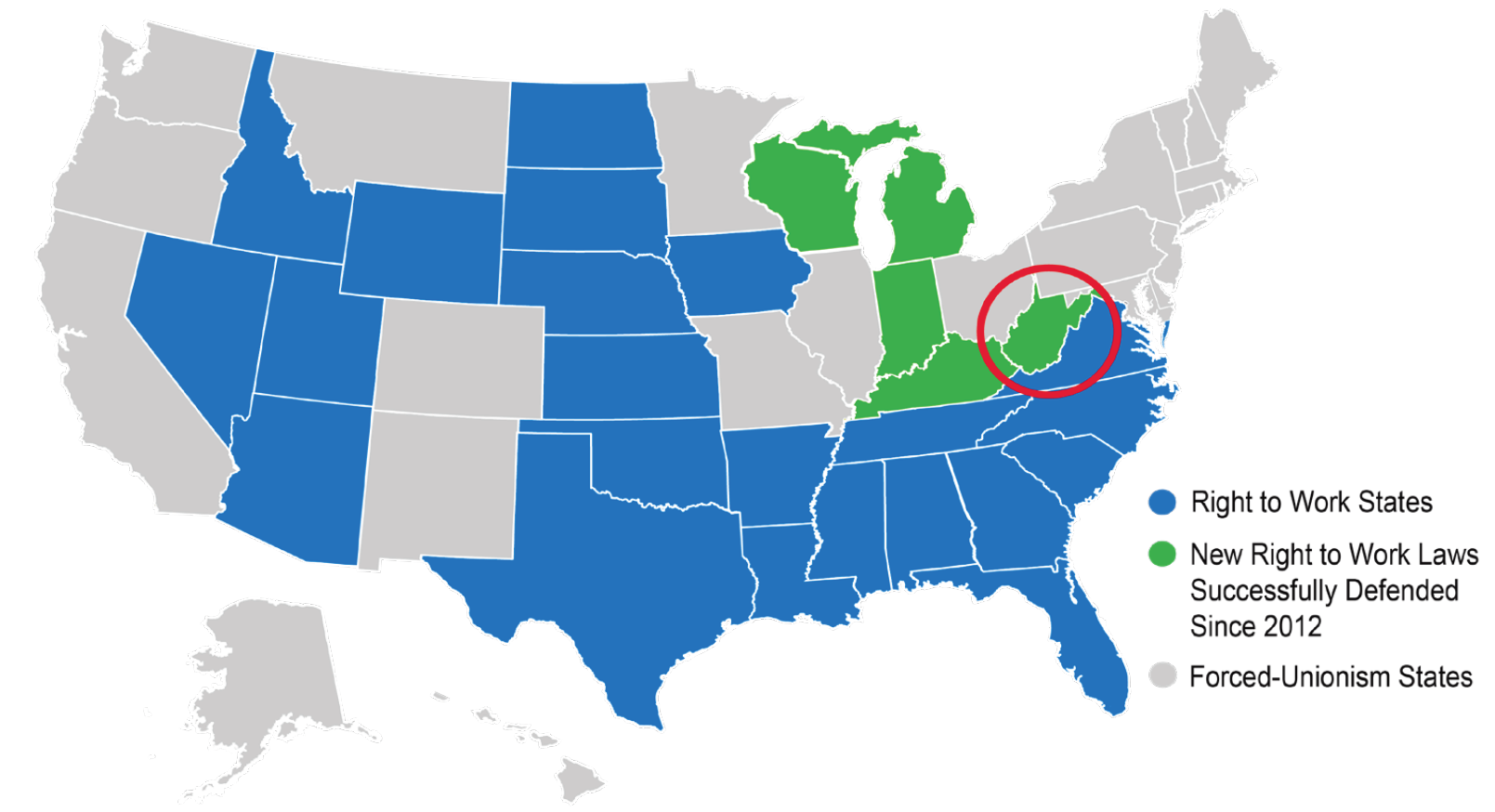 The Foundation added West Virginia to the list of states where it has successfully helped defend Right to Work since 2012. Now the state's motto, "Montani Semper Liberi" ("Mountaineers are Always Free") applies to the state's workers.
CHARLESTON, WV – The West Virginia Supreme Court closed the book on a case brought by union lawyers seeking to overturn the state's popular Right to Work Law, which protects Mountain State workers from being forced to pay dues or fees to a union as a condition of employment. Foundation staff attorneys filed 10 briefs in defense of Right to Work, including briefs submitted for pro-Right to Work employees who wanted the freedom to cut off financial support for unions in their workplace.
Ultimately, the West Virginia Supreme Court rejected outrageous arguments from union lawyers that union hierarchies have a legal "right" to a portion of a worker's paycheck because that worker is also forced to accept their so-called "representation." In their ruling, the justices repeatedly cited the landmark 2018 Foundation-won Janus v. AFSCME decision in which the U.S. Supreme Court ruled that requiring public sector employees to pay union dues as a condition of employment is a First Amendment violation.
In the decision, Justice Evan Jenkins wrote for the majority that West Virginia's Right to Work Law "does not violate constitutional rights of association, property, or liberty" and that states are "expressly authorized under federal law" to prohibit union bosses from requiring dues or fees as a condition of employment. Justice Jenkins also maintained that Janus provides strong support for the law.
The West Virginia Legislature passed Right to Work over then-Governor Earl Ray Tomblin's veto in February 2016, making West Virginia the 26th Right to Work state. The Foundation immediately offered free legal assistance to employees who had questions about exercising their rights.
Foundation Attorneys Spring into Action as Soon as Protections Enacted
The Foundation also created a special task force to defend the West Virginia law, which began applying to collective bargaining agreements that were entered into, modified, renewed or extended after July 1, 2016.
On June 27, 2016, lawyers for several state unions brought a case (later renamed West Virginia AFL-CIO, et al. v. Governor James C. Justice, et al.) in an attempt to overturn the popular law. Polling consistently shows that Americans overwhelmingly back Right to Work laws. A poll of union households even found that 80 percent of union members supported the Right to Work principle that union membership and dues payment should be voluntary and not required as a condition of employment.
Despite decades of precedent upholding such laws, Judge Jennifer Bailey of the Kanawha County Circuit Court issued a February 2017 order at the behest of union lawyers, granting a preliminary injunction that purported to block the law. The union lawyers' primary arguments in this case for why the Right to Work protections for workers should be overturned had already been rejected by a Federal Court of Appeals and the Indiana Supreme Court. They also ran counter to nearly 70 years of legal precedent, including U.S. Supreme Court decisions, upholding the constitutionality of state Right to Work laws.
Foundation staff attorneys filed legal briefs for Reginald Gibbs, who worked as a lead slot machine technician with the Greenbrier Hotel in White Sulphur Springs, West Virginia, and Donna Harper, who worked as a laundry aide and nursing assistant at the Genesis HealthCare Tygart Center in Fairmont, West Virginia. Harper's brief explained that because she had exercised her right under the Right to Work protections to refrain from subsidizing the Teamsters union at her workplace, killing those protections would result in her being fired.
Union Boss Attacks on Right to Work in Other States Successfully Turned Back
"The West Virginia Supreme Court's unanimous decision to safeguard the right to freely choose whether or not one will financially support a union marks a great victory for Mountain State employees," observed National Right to Work Foundation President Mark Mix. "Workers who disapprove of union boss activities can rest assured that they cannot be terminated for refusing to tender dues to a union, and those who want to support union activities may do so uninhibited."
In addition to West Virginia, Foundation staff attorneys have successfully pursued legal action in recent years to defend and enforce new Right to Work laws in Indiana, Michigan, Wisconsin and Kentucky, all of which have passed Right to Work protections for employees since 2012.