Foundation-won settlement also forces union officials to stop threatening non-members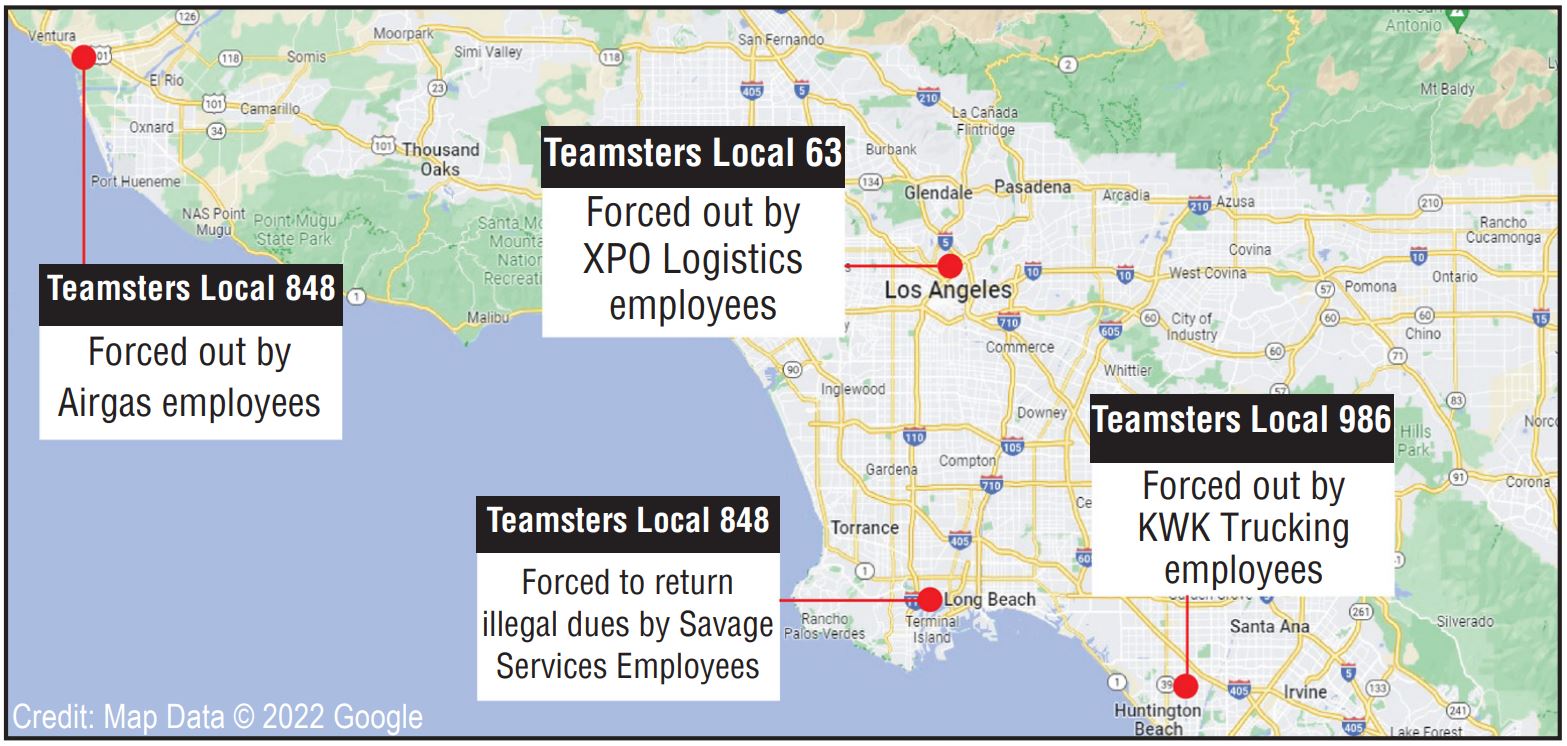 SoCal Shenanigans: Teamsters officials' disrespect for rank-and-file workers and their rights led to multiple Foundation-backed employee actions against them in just the past year.
LOS ANGELES, CA – When Nelson Medina and about 60 of his coworkers at Savage Services in Long Beach tried to exercise their right as union non-members to opt out of funding Teamsters Local 848 officials' political expenditures, Teamsters bosses responded with harassment, misinformation, and threats of termination.
Now, with free legal aid from the National Right to Work Foundation, they have won a settlement that required Teamsters honchos to pay back thousands of dollars in dues union officials seized in violation of workers' rights under the Foundation-won CWA v. Beck Supreme Court decision.
Because California lacks Right to Work protections, even Golden State private sector workers who oppose a union's presence in their workplace can be required to pay union dues or fees to keep their jobs. However, under the Beck decision, union officials can never require non-members to subsidize union political activity. Beck also entitles employees who have abstained from union membership to receive union financial disclosures.
Teamsters Bosses to Workers: Fund Union Politics or Be Fired
Medina originally filed charges against Teamsters officials for illegal dues practices in September 2021. The charges stated that he had sent Teamsters officials a letter on August 15 exercising his right to reject formal union membership and invoking his right under Beck to cut off dues deductions for union politics.
About a month after the letter, the charge noted, union officials informed Savage Services management by mail that if Medina and 12 fellow employees who also objected to full union membership did not complete membership applications and pay full dues for the month of September, the employer should terminate the employees before September's final week.
The settlement, in addition to requiring Teamsters bosses to return nearly $6,000 in illegally taken dues to Savage Services employees, also mandated that union officials declare in a public notice that they "will not fail to provide non-member employees with a breakdown of dues and fees required for Beck objectors upon request."
They also had to declare they "will not threaten employees who have raised Beck objections with termination for failing to complete a union application as a condition of employment."
"That Teamsters Local 848 officials illegally siphoned money for politics from almost 60 Savage Services employees and threatened termination of those who dared to stand up for their rights demonstrates clearly that Teamsters officials prioritize power far above the employees they claim to 'represent,'" commented National Right to Work Foundation Vice President and Legal Director Raymond LaJeunesse. "Based on the sheer number of employees in Medina's workplace who received refunds as the result of this settlement, Teamsters officials apparently played fast and loose with the rights of all workers who objected to the union agenda."
Foundation Attorneys Counter Teamsters Coercion Across Southern California
Last September, Foundation staff attorneys also aided Ventura, CA, Airgas employees in removing Teamsters Local 848 from their facility. After litigation that had lasted almost a year, as well as two submissions of petitions demonstrating a majority of workers at the plant wanted the Teamsters gone, union officials finally departed the plant. They did so just before the NLRB was slated to conduct a secret-ballot vote whether to remove the union at the plant, likely leaving to avoid an embarrassing rejection by the workers.
The string of Foundation-assisted worker victories over unwanted Teamsters officials in Southern California continued last year when Ozvaldo Gutierrez and his XPO Logistics coworkers forced Teamsters Local 63 union bosses out of their Los Angeles facility in October.