The following article is from the National Right to Work Legal Defense Foundation's bi-monthly Foundation Action Newsletter, July/August 2022 edition. To view other editions of Foundation Action or to sign up for a free subscription, click here.
Union bosses got car dealership to illegally terminate employee for not joining union & paying full dues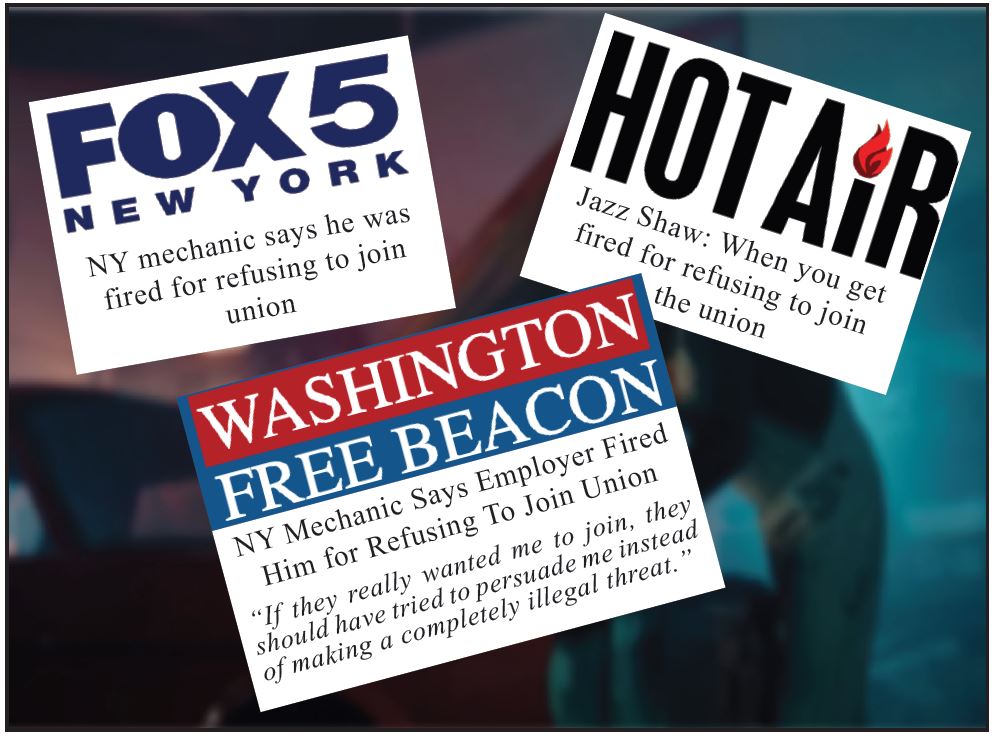 IAM officials illegally demanded full dues and membership from Remmington Duk on pain of discharge. The Foundation helped Duk file his case and got the word out about his struggle, and he has now won thousands in a settlement.
BUFFALO, NY – Fired New York car dealership employee Remmington Duk won more than $18,000 from International Association of Machinists and Aerospace Workers Automotive (IAM) Lodge 447 and Robert Basil Buick GMC. Mr. Duk filed federal charges at the National Labor Relations Board (NLRB) on January 31, 2022, against IAM Lodge 447 and his former employer with free legal representation from National Right to Work Foundation staff attorneys.
Rather than defend the illegal firing, both the car dealership and union hastily settled, paying Duk a combined $18,416 in addition to posting notices informing other workers that they cannot legally be fired for refusing to join the union and pay full union dues.
The charges stated that on October 7, 2021, IAM union officials demanded Mr. Duk sign paperwork authorizing union membership. Union officials threatened that if he did not sign, he would be terminated from the company. After Mr. Duk refused to sign the documents, Robert Basil Buick GMC fired him on October 12, 2021, at IAM officials' behest.
IAM Settles for Nearly $17,000 for Union Officials' Role in Illegal Firing
Because New York State lacks Right to Work protections for its private sector workers, employees can be fired for refusing to pay union fees. However, full membership and full union dues cannot legally be required. In contrast, in the 27 states currently with Right to Work laws on the books, union membership and all union financial support are strictly voluntary.
To make the federal unfair labor practice charges against the union go away, IAM officials paid Mr. Duk $16,916 and were required to post a notice in his workplace informing other workers of their right not to be union members. Union officials must also inform future new employees of that right. The union check payable to Mr. Duk reflects the amount of money he would have earned had he not been fired.
Car Dealership Pays Additional $1,500 for Union Instigated Firing
Mr. Duk also won a settlement from Robert Basil Buick GMC for $1,500 for firing him at the IAM union officials' behest. In that settlement, Robert Basil Buick GMC also agreed to post a notice in the workplace for 60 days informing other workers of their right not to be union members, and to inform future new employees of that right.
"Understandably, Remmington Duk is no longer interested in returning to work for an employer who went along with IAM union officials' illegal threat to have him fired for refusing union membership and dues payment, even though he was entitled to have his job back under federal law," commented National Right to Work Foundation Vice President Patrick Semmens. This case is yet more evidence of why Empire State workers need the protection of a Right to Work law to make all union association strictly voluntary."