The following article is from the National Right to Work Legal Defense Foundation's bi-monthly Foundation Action Newsletter, March/April 2020 edition. In April 2020, the NLRB announced that it would effectively eliminate the "blocking charge" and "voluntary recognition bar" policies. To view other editions or to sign up for a free subscription, click here.
Comments: End arbitrary restrictions on employee votes to remove unwanted unions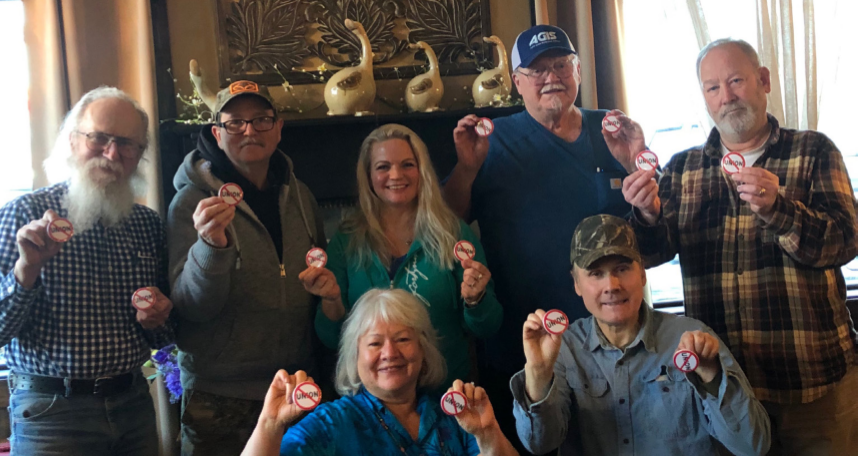 Free at last: Lead petitioner Liz Chase (front, left) and her fellow Alaska bus drivers hold up "no-union" buttons after finally ousting an unpopular Teamsters union from  their workplace. Union bosses trapped them in union ranks for years.
WASHINGTON, DC – The National Right to Work Legal Defense Foundation submitted comments to the National Labor Relations Board (NLRB) in January, urging it to issue a final rule to eliminate arbitrary policies that union officials frequently manipulate to trap workers in union ranks.
The three policies at issue in the NLRB's rulemaking are not mandated or even mentioned by the National Labor Relations Act (NLRA), the federal law that the NLRB is charged with enforcing. These policies were created by rulings of past Big Labor-friendly Boards. The comments approve of the Trump NLRB's plan to alter all three policies, but advocate the Board go even further to protect independent-minded workers in how it deals with so-called "blocking charges."
"Delays in the rulemaking process this Board has used to address these coercive policies means workers across the country continue to be trapped in unions they oppose," National Right to Work Foundation President Mark Mix observed. "Which is why the NLRB should now swiftly finalize these rules as the Foundation's comments advocate."
The NLRB's "blocking charge" policy lets union bosses file often baseless unfair labor practice (ULP) charges against an employer to halt employee votes to decertify unions. These charges regularly block votes even if the allegations against the employer have no connection to the decertification effort.
Foundation: Stop Letting Union Bosses Block Votes to Remove Unwanted Unions
The agency plans to eliminate that policy and replace it with one that lets decertification elections proceed while such charges are pending, but requires the results of the vote to be withheld until those charges are resolved.
Instead, the Foundation urges the Board to release vote tallies first to "decrease litigation and give parties greater information on whether to settle" unfair labor practice charge allegations unlikely to impact the election's outcome. This would help prevent attempts by union bosses to drag out the ULP process and keep workers trapped in forced-dues paying ranks.
Foundation staff attorneys have provided legal assistance to scores of workers faced with "blocking charges," including recently a group of Alaskan bus drivers who were finally freed in December 2019 from an unpopular Teamsters union after three years of attempts to remove it. One employee in that situation, Don Johnson (pictured front, right), commented to the NLRB that Teamsters officials' continued blocking of an election was "the most unfair and anti-democratic event" with which he had ever been involved.
The Foundation's comments also support the NLRB's move to modify the so-called "voluntary recognition bar."
Comments: Put a Check on "Card Check" and Other Coercive Schemes
This reform will allow employees and rival unions to file for secretballot votes after unions have been installed in workplaces through abuse-prone "Card Check" drives, which bypass the NLRB-supervised election process.
The NLRB would reinstate a system secured by Foundation staff attorneys for workers in the 2007 Dana Corp NLRB decision. Although thousands of workers used the process to secure secret ballot votes after being unionized through card checks, the Obama NLRB overturned Dana in 2010.
The Foundation's comments also support the agency's proposed rule to crack down on schemes in the construction industry where employers and union bosses are allowed to unilaterally install a union in a workplace without first providing proof of majority union support among the workers. Foundation staff attorneys represented a victim of such a scheme in a case (Colorado Fire Sprinkler, Inc.) that ended when a D.C. Circuit Court of Appeals panel unanimously ruled for the worker, who had been unionized despite no evidence of majority employee support for the union.
Foundation Supporters Flood NLRB with Comments Supporting Rule Changes
The Foundation has long called for the NLRB to abandon all barriers to employee decertification of unions not required or mentioned in the text of the NLRA. In reply comments filed later with the NLRB, Foundation staff attorneys made this point, and also supported comments made by NLRB General Counsel Peter Robb calling for expanded protections for workers unionized through coercive "Card Check" drives.
In addition to the Foundation's detailed legal arguments, the Foundation used its email list to rally thousands of supporters to sign petitions to the Board in favor of eliminating the non-statutory policies that union bosses rely on to trap workers in forced unionism ranks against their will. All told, more than 18,000 petitions were submitted, asking the Board to "immediately implement the rule changes as detailed in the National Right to Work Foundation's comments."
The NLRB is expected to issue the final rule in the coming months.