The following article is from the National Right to Work Legal Defense Foundation's bi-monthly Foundation Action Newsletter, May/June 2020 edition. To view other editions or to sign up for a free subscription, click here.
Case could set precedent for hundreds of millions of dollars in refunds to Big Labor's victims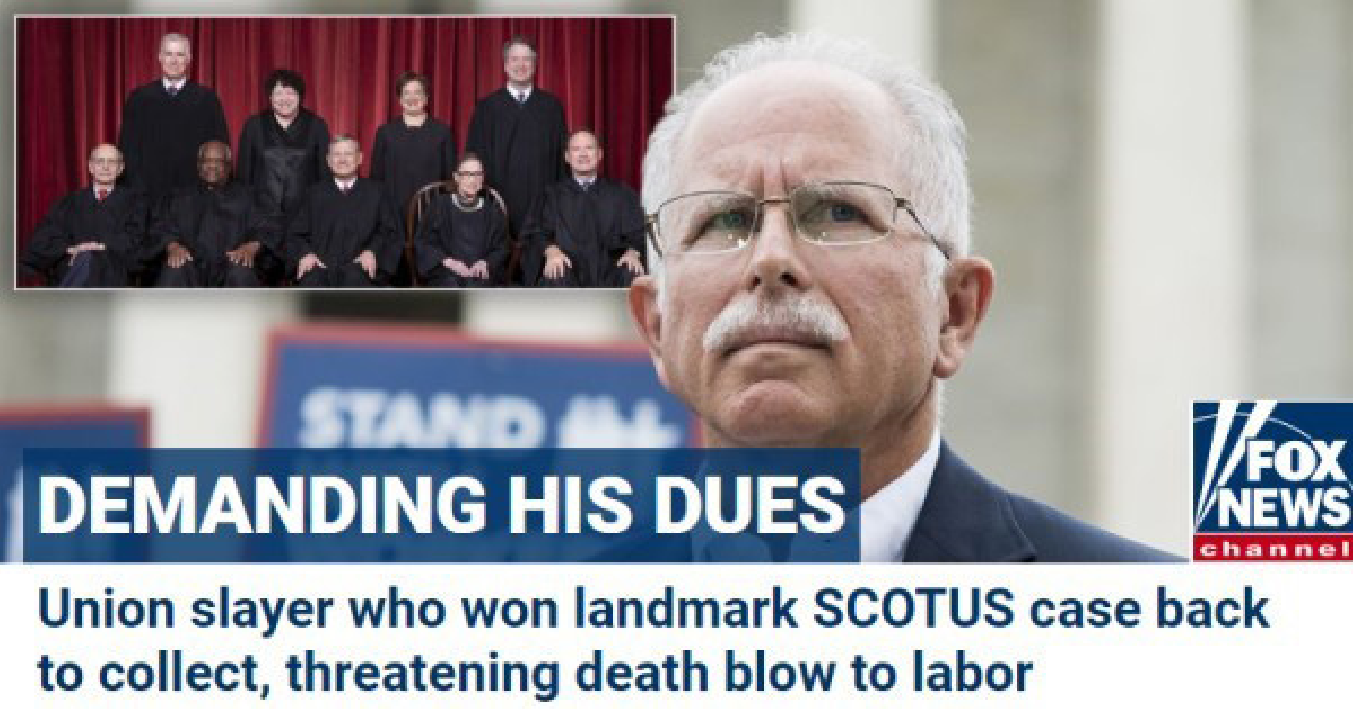 Mark Janus' second Foundation-backed appeal to the Supreme Court landed the top spot on Fox News' website. If Janus prevails again, hundreds of millions of dollars in unconstitutional union dues could be returned to public sector employees.
WASHINGTON, DC – Mark Janus is returning to the U.S. Supreme Court, this time asking the Justices to hear the continuation of Janus v. American Federation of State, County, and Municipal Employees (AFSCME), Council 31. Janus seeks repayment of the thousands of dollars in fees the union took from his paycheck in violation of his First Amendment rights. Another Supreme Court victory for Janus could set a precedent resulting in the return of hundreds of millions of dollars seized by union officials in violation of workers' constitutional rights.
The original Janus v. AFSCME was argued successfully before the Supreme Court by veteran National Right to Work Foundation staff attorney William Messenger. In a landmark victory, the Court sided with Janus on June 27, 2018, and declared it illegal to force public employees to subsidize a union as a condition of employment. The Court recognized that compelling public workers to pay fees to a union violates their First Amendment rights.
Illinois Child Support Public Servant Intervenes in Lawsuit with Foundation Aid
As a result of Janus, more than five million public sector employees across the country are no longer required to pay union dues or fees to keep their jobs. However, Janus' case continues as he seeks the return of the fees that AFSCME seized from his paycheck without his permission from June 27, 2018, to  March 23, 2013, representing the two-year statute of limitations from the date his case started in March 2015 through the Supreme Court's 2018 decision in his favor.
The Janus case began in February 2015, when then-newly elected Illinois Governor Bruce Rauner issued an executive order prohibiting state agencies from requiring employees who had abstained from formal union membership to pay union fees, based on a Right to Work Foundation U.S. Supreme Court victory in 2014 in another Illinois case. Rauner also filed a federal lawsuit seeking a declaratory judgment that forced union fees violate the First Amendment rights of public workers.
Staff attorneys from the Foundation, in partnership with the Illinois-based Liberty Justice Center, filed a motion for Mark Janus and two other plaintiffs to intervene in the case in March 2015, and have represented Janus ever since. The U.S. District Court for the Northern District of Illinois granted Janus' motion to file a complaint in intervention, which allowed the suit to move forward even after the court ruled that Rauner lacked standing to pursue the lawsuit.
The Supreme Court permitted union bosses to impose forced union fees on public workers in the 1977 Abood v. Detroit Board of Education decision. However, before the Janus victory, Foundation staff attorneys secured several victories for workers which called the constitutionality of forced fees into question. In 2012, the court ruled in Knox v. SEIU that union officials must obtain affirmative consent from workers before using workers' forced union fees for special assessments or risk infringing on their First Amendment rights. In 2014, the court ruled in Harris v. Quinn that requiring home healthcare providers who receive a subsidy from the government to pay union dues is a First Amendment violation.
Following Janus' groundbreaking win at the Supreme Court in June 2018, Foundation attorneys continued his case in Illinois federal courts, arguing that the Supreme Court's ruling is retroactive and that AFSCME should be required to return dues they seized unconstitutionally before the decision. In this and similar cases, union bosses have made a so-called "good faith" argument to defend their seizing of dues before Janus was issued. The U.S. Seventh Circuit Court of Appeals in Chicago ruled in 2019 that AFSCME could keep the unconstitutional dues, prompting Janus' petition to the Supreme Court.
Hundreds of Millions of Dollars Potentially At Stake
"The Supreme Court agreed that the union taking money from non-members was wrong but the union still has the money it illegally garnished from my paycheck," commented Janus. "It's time for AFSCME to give me back the money they wrongfully took."
Foundation staff attorneys are currently fighting for thousands of workers in about 20 cases which seek refunds of dues seized unconstitutionally before Janus was decided. While Janus is seeking the return of $3,000 of his own money, a favorable decision for him would set a precedent that could result in the return of over $120 million to public servants just in Foundation-backed cases. Other cases brought by workers could bring that total to hundreds of millions of dollars.
Workers Already Winning Refunds of Illegal Dues with Foundation Legal Aid
"The Supreme Court has already sided with the Foundation arguments for Mark Janus and ruled that forcing public employees to fund union activities violates the First Amendment," said National Right to Work Foundation Vice President and Legal Director Raymond LaJeunesse. "The Supreme Court should take this case again to ensure that public sector union bosses are not permitted to profit from their widespread violation of workers' First Amendment rights."
Foundation staff attorneys in July 2018 secured the nation's first-ever refund of dues seized unconstitutionally before Janus for Debora Nearman, an Oregon state wildlife employee. SEIU bosses were forced to settle and give back to Nearman over $3,000 in illegal fees they had seized from her over two years, during which they had sponsored an aggressive political campaign against her own husband, who ran successfully for the Oregon Legislature in 2016.