The following article is from the National Right to Work Legal Defense Foundation's bi-monthly Foundation Action Newsletter, September/October 2022 edition. To view other editions of Foundation Action or to sign up for a free subscription, click here.
Trial exposed emails advocating 'targeted assassinations' of union critics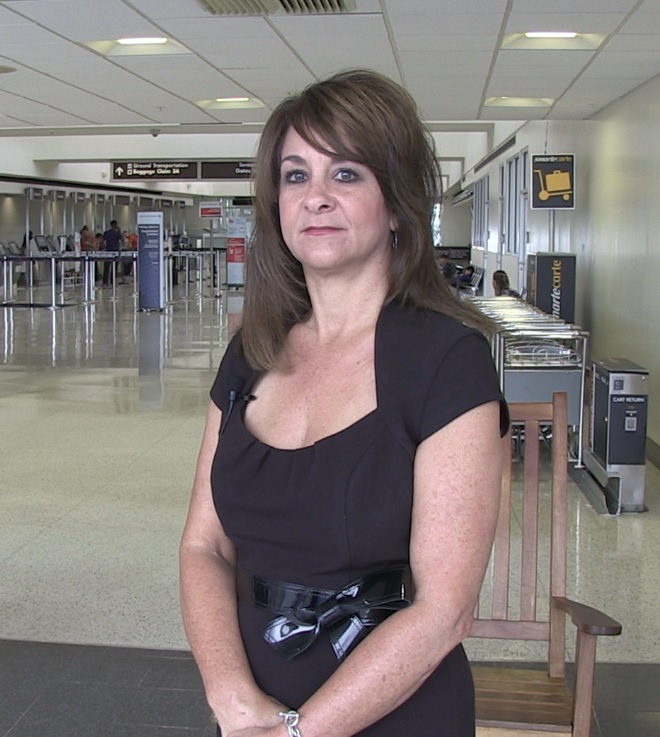 Charlene Carter on her Foundation-won trial victory: "I am so humbled and thankful for today's decision and for everyone who's supported me these past five years."
DALLAS, TX – Ex-Southwest Airlines flight attendant Charlene Carter prevailed in a federal jury trial in her lawsuit against the Transportation Workers Union of America (TWU) Local 556 union and Southwest. She charged both the company and union with illegally firing her for opposing the political activities of the union hierarchy, and with discriminating against her religious beliefs. Carter received free legal representation from National Right to Work Legal Defense Foundation staff attorneys.
A jury in the U.S. District Court for the Northern District of Texas awarded Carter $5.1 million in combined compensatory and punitive damages against TWU and Southwest for their respective roles in her unlawful termination.
"Today is a victory for freedom of speech and religious beliefs. Flight attendants should have a voice and nobody should be able to retaliate against any employee for engaging in protected speech against her union," said Carter reacting to the victory.
Flight Attendant Called Out Union Officials for Their Political Activities
Carter resigned from union membership in 2013 but was still forced to pay fees to TWU Local 556 as a condition of her employment. The Railway Labor Act (RLA), the federal law that governs labor relations in the air and rail industries, permits the firing of employees for refusal to pay dues and preempts the protections that state Right to Work laws provide.
However, the RLA does protect employees' rights to remain nonmembers of the union, to speak out against the union and its "leadership," and to advocate for changing the union's current "leadership."
In January 2017, Carter, a pro-life Christian, learned that then-TWU Local 556 President Audrey Stone and other Local 556 officials used union dues to attend a political rally in Washington, D.C., which was sponsored by activist groups she deeply opposed, including Planned Parenthood.
Carter, a vocal critic of Stone and the union, sent private Facebook messages to Stone challenging the union's support for political positions that were contrary to Carter's beliefs, and expressing support for a recall effort that would remove Stone from power. Carter also sent Stone a message emphasizing her commitment to a National Right to Work law after the union had sent an email to employees telling them to oppose Right to Work.
After a meeting at which Southwest officials confronted Carter about her posts protesting union officials' positions, the company fired Carter. In 2017 Carter filed her federal lawsuit, challenging the firing as a clear violation of her rights under two federal laws. She maintained that she lost her job because of her religious beliefs, standing up to TWU Local 556 officials, and criticizing the union's political activities and how it spent employees' dues and fees.
Ultimately, concluding an 8-day July trial, the federal jury agreed with Carter and her Foundation staff attorneys. In its verdict, the jury found in favor of Carter on all counts of the lawsuit, while awarding Carter $950,000 in damages against the TWU union local and more than $4 million in damages against Southwest.
Union Zealot Advocated 'Targeted Assassinations' of Union Dissidents
In email communications unearthed and introduced at trial by Foundation staff attorneys, TWU union militants advocated for "targeted assassinations" of union dissidents and mocked Carter for being unable to stop her money from going toward union-backed causes she opposed.
Carter's Foundation-backed lawsuit also revealed ugly examples of the hostility TWU officials and activists had for workers like Carter who spoke out against the incumbent union hierarchy. Foundation staff attorneys are preparing to counter already-announced appeals by both Southwest and TWU.
"This long-awaited verdict vindicates Ms. Carter's fundamental right to dissent from the causes and ideas that TWU union officials support while forcing workers to bankroll that agenda," commented National Right to Work Foundation President Mark Mix. "Verdicts like this show not only that one brave worker standing up to union bullies can make a difference, but also send a message to union bosses that their unlawful tactics will not go unpunished or unchallenged."