The following article is from the National Right to Work Legal Defense Foundation's bi-monthly Foundation Action Newsletter, May/June 2023 edition. To view other editions of Foundation Action or to sign up for a free subscription, click here.
Union officials required teen to violate his religious beliefs or be fired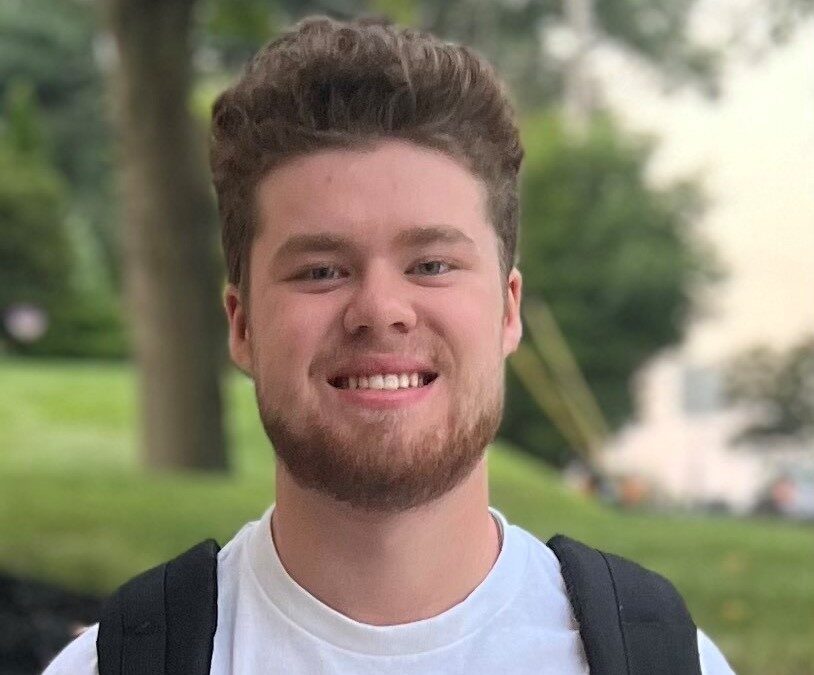 Josiah Leonatti may be young, but he's not afraid to stand up to UFCW bosses, who got him fired over objecting to union membership and dues on religious grounds.
PITTSBURGH, PA – Josiah Leonatti, a high schooler, was fired last year for his religious beliefs. Giant Eagle and the United Food and Commercial Workers (UFCW) union compel employees, like Leonatti, to either join or fund the union to keep their jobs. The problem for Leonatti is that he cannot do so without compromising his religious beliefs.
When Leonatti was hired, he never expected that union bosses would force him to choose between his job and his religious convictions. But the union officials did just that.
With free legal aid from National Right to Work Foundation staff attorneys, Leonatti hit UFCW union officials and Giant Eagle in January with federal discrimination charges. Although Giant Eagle rehired Leonatti to limit liability, neither Giant Eagle nor the union agreed to accommodate his religious beliefs. So Leonatti faces discharge, again, unless he funds the union.
Moreover, the union demands that Leonatti submit to an illegal "religion test." Before the company and union will consider accommodation, they demand that Leonatti answer irrelevant and inappropriate questions to determine whether his religious beliefs are valid.
UFCW Bosses Tried to Get Teen Fired After He Voiced Religious Objections
Foundation attorneys filed charges for Leonatti against the union at both the Equal Employment Opportunity Commission (EEOC) and the National Labor Relations Board (NLRB) based on federal law. Foundation attorneys also filed charges against Leonatti's employer, Giant Eagle.
Federal law requires unions and employers to accommodate employees who have religious objections to joining or paying dues to a union. And federal law also prohibits forced union membership regardless of a worker's reason for not wanting to affiliate with a union.
Leonatti's charges report that he attended employee training last year as a cashier trainee. There, a store manager told new hires that they "must sign papers to join the United Food And Commercial Workers." According to the NLRB charges, "No other options were even hinted at."
After reviewing the papers with his family, Leonatti's charges explain, he mailed a letter to UFCW officials detailing his sincere religious objections to joining and supporting the union. He also presented the same letter in person at training.
Rather than accommodate his religious beliefs as required by law, a company official "dismissed [Leonatti] from training and sent [him] home." The same official later called Leonatti and told him that union membership is compulsory at Giant Eagle, and admitted the grocery store had terminated him over his refusal to join.
UFCW officials responded to Leonatti's letter by mail on November 10, 2022, rejecting the written explanation of his religious objection and demanding he "complete its religious examination" before they even considered granting him an accommodation. Even if he passed this "test," the charges say, union officials threatened that he would still have to pay an amount equal to full UFCW union dues to a charity approved by union bosses. Giant Eagle has not offered a religious accommodation to Leonatti, and the union has not retracted its threats or agreed to accommodate him.
Teen's Firing Shows Need for Pennsylvania Right to Work Protections
Leonatti's EEOC charges seek to compel the UFCW union and Giant Eagle to provide him a legally required religious accommodation. In addition, the NLRB charges state that relief must include unitwide notice and corporate training regarding workers' right to refrain from union membership, among other remedies.
"Union bosses' attempt to coerce a high school student to violate his religious beliefs is unconscionable and illegal," commented National Right to Work Foundation Vice President Patrick Semmens. "We're proud to support Mr. Leonatti as he defends his rights and beliefs. This should serve as a stark reminder that all Americans deserve Right to Work protections."
"If Pennsylvania were a Right to Work state, Leonatti wouldn't be forced to present his religious objections to expectedly hostile union chiefs," Semmens added. "In a Right to Work state, he and other dissenting employees would have a statutorily protected right to cut off dues payments for any reason. All employees deserve the right to choose whether to fund a union."