[In English]
Una ley de Derecho al Trabajo asegura el derecho de los empleados a decidir por ellos mismos si desean o no unirse o apoyar económicamente al sindicato. Sin embargo, los empleados que trabajan para las industrias de ferrocarriles o de aerolíneas no están amparados por una ley de Derecho al Trabajo, y los empleados que trabajan en un enclave federal podrían no estar protegidos.
Haga clic en uno de los estados con Derecho al Trabajo siguientes para leer acerca de la ley de Derecho al Trabajo de ese estado.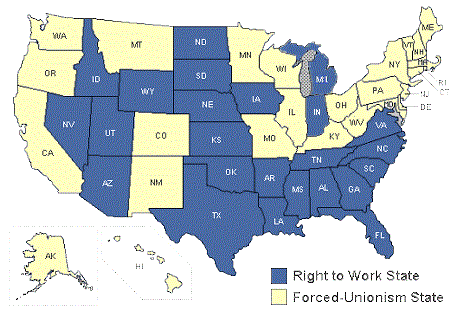 Copyright © 2012 The National Right to Work Committee. Used with permission.
Alabama | Arizona | Arkansas | Florida | Georgia | Guam | Idaho | Indiana | Iowa | Kansas | Louisiana | Michigan | Mississippi | Nebraska | Nevada | North Carolina | North Dakota | Oklahoma |South Carolina | South Dakota | Tennessee | Texas | Utah | Virginia | Wisconsin | Wyoming
ATENCIÓN: Las leyes estatales siempre están cambiando. Antes de confiarse en el texto de cualquier estatuto estatal de Derecho al Trabajo, debería verificar la edición más reciente de las leyes estatales de su estado.
Si usted no vive en un estado con Derecho al Trabajo, haga clic aquí para informarse acerca de sus derechos legales.
Para empleados del sector privado que trabajan en el estado de Indiana: Comuníquense con la Fundación para enterarse de sus derechos según la nueva ley del "Derecho al Trabajo" (Right to Work Law) de Indiana.