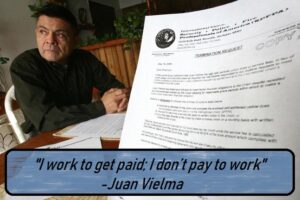 Juan sitting beside union officials' "termination request" against him for refusing to pay union fees
Juan Vielma, 58, was a security guard of 17 years in El Paso, Texas. That is, until he dared to oppose a union. When union officials persuaded his employer to suspend him without pay for exercising his legal rights, he struggled to make ends meet.
His employer, AKAL Security, is a joint-venture of Minnesota-based Deco Security Services and New Mexico-based AKAL Security.
At the order of officials from the International Union of Security, Police and Fire Professionals of America (SPFPA), AKAL suspended Juan without pay for over a year because he had exercised his right under Texas' Right to Work law to refuse to pay union dues. Texas is one of 24 Right to Work states that prohibit compulsory dues.
Juan sought free legal assistance from attorneys at the National Right to Work Foundation. In federal charges filed with the National Labor Relations Board (NLRB), Foundation attorneys sought Juan's reinstatement and back pay, in addition to a notice to all AKAL Security employees about their rights to refrain from forced union membership and dues payment. Eventually, the NLRB issued a formal complaint and conducted a hearing to prosecute the union in late March 2007.
After the hearing, a federal Administrative Law Judge ruled that Juan be reinstated and be fully reimbursed his back wages and benefits lost. However, Texas Attorney General Greg Abbott's office has inexplicably failed to take formal legal action to prosecute the SPFPA union for violating the Right to Work law. Foundation attorneys have also uncovered an apparent statewide union fraud to dupe potentially thousands of Texans into paying compulsory dues.
Juan in His Own Words
"I can't collect unemployment because I'm suspended until I pay the union fees. I've got all my bills. I'm two payments behind on my house (mortgage)." –Juan Vielma, speaking to a reporter for the El Paso Times
"For me, I don't think we need a union." –Juan Vielma, commenting on union membership for the El Paso Times
"I work to get paid; I don't pay to work." –Juan Vielma, asserting his right under Texas' highly-popular Right to Work law
Foundation Action Features