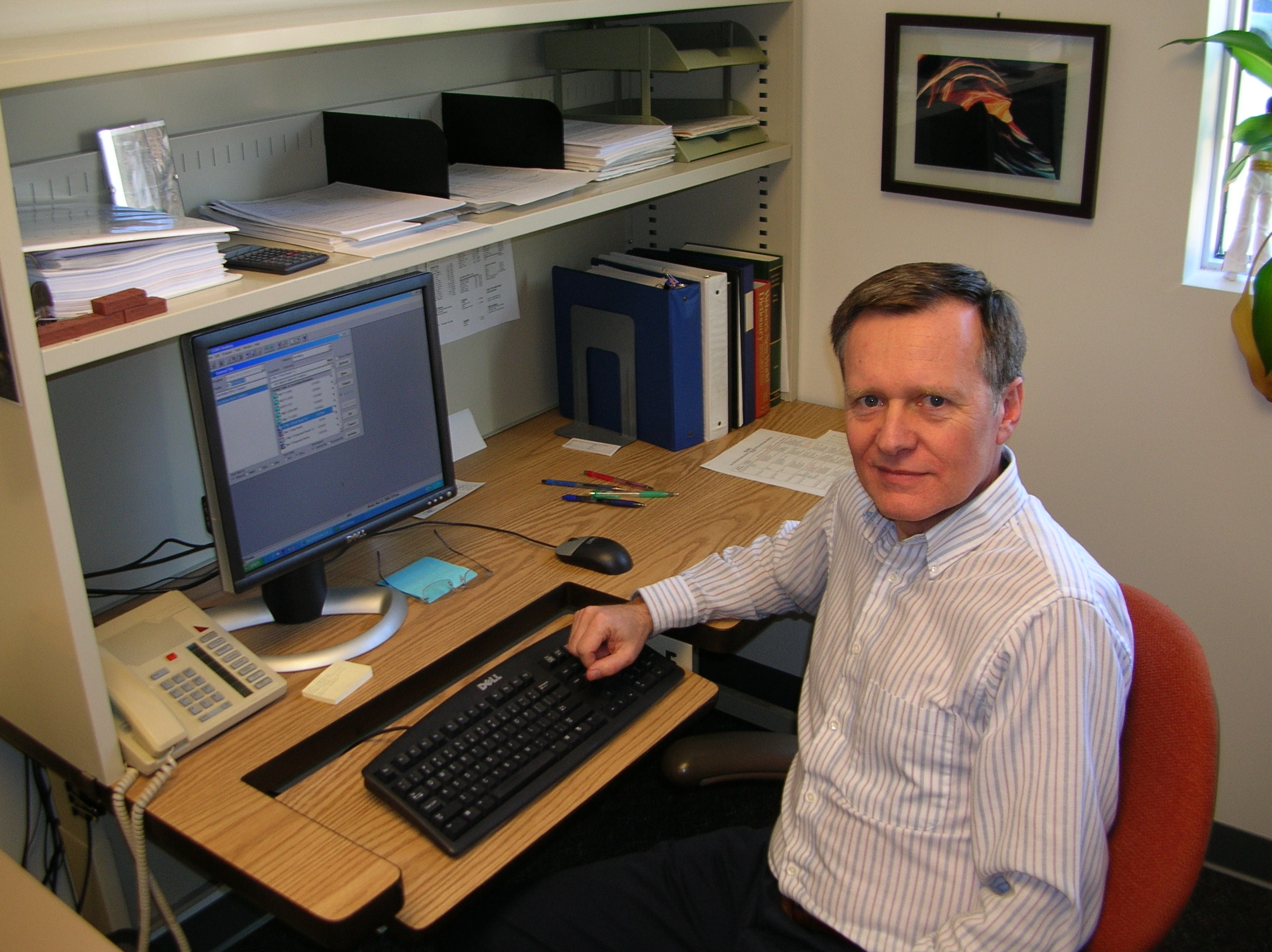 Glen working at his desk.
Glen Greenwood, an employee of the Ohio Environmental Protection Agency, is a devout Presbyterian and a deeply religious man. His faith was tested when officials at the Ohio State Employee Relations Board (SERB) and the Ohio Civil Service Employee Association (OCSEA) union told Glen that he was not a member of a state-sanctioned church and therefore his forced dues could not be diverted to a charity as normally allowed by law. Having received a disturbing letter to this effect from union officials, Glen was certain that his faith and conscience were being undermined and disregarded.
Ohio is one of 28 forced-unionism states in the United States. By law, union officials are permitted to deduct certain union dues from employees' paychecks without their consent. However, employees with sincere religious objections to union affiliation may exercise their rights to divert their dues to a charitable organization to refrain from financially supporting a union believed to be immoral.
Glen attempted to do just that – and by exercising his rights, he ran into resistance from union officials. After he sought free legal assistance from attorneys at the National Right to Work Foundation, Glen realized he was in good hands.
Following the complaint filed by the U.S. Department of Justice (DOJ), the Equal Employment Opportunities Commission (EEOC), as well as Foundation attorneys filed suit against OCSEA union and SERB because they were discriminating based on religious beliefs, a violation of the 1964 Civil Rights Act.
A resulting "consent decree" signed by a federal judge placed the State of Ohio under federal court supervision for the illegal actions it took in concert with union officials. It also reaffirmed that almost all state employees in Ohio who have sincere religious objections to union affiliation cannot be lawfully forced to associate with and pay dues to a union they find objectionable.
Glen in His Own Words
"There is reassurance and an increased feeling of comfort that we are indeed free. We are not required to check our faith at the door or prostitute ourselves with the union to get our paycheck. And that's a good feeling." –Glen Greenwood, describing his changed work environment after the case
"I believe, however, that I got the best possible representation in my case. How can you beat 30 years in this particular specialty with a stellar success rate and no cases anywhere in the last 20 years without his input?I believe God is sovereign – but He led me to NRTW." –Glen Greenwood, commenting on the Foundation's attorneys and their work on his behalf
"I am so very grateful to the Foundation and its supporters for their help in this case. I couldn't imagine going through with this without the expertise and confidence of [Right to Work Staff Attorney] Bruce Cameron." –Glen Greenwood, November/December 2006 Foundation Action newsletter
Foundation Action Features