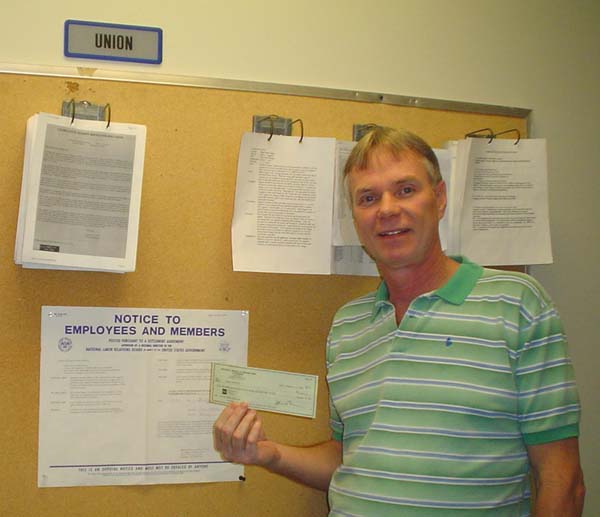 Randy holding his check in front of Federal Violation Notice
Randy Boettjer, a Communications Technician at the San Onofre Nuclear Generating Station near San Clemente, California, felt the brunt of union officials' mistreatment.
Since 2003 when Randy first accepted a part-time position at the power plant, he experienced years of ongoing harassment by International Brotherhood of Electrical Workers (IBEW) Local 47 union officials. Union officials unlawfully required Randy to pay full union dues as a condition of employment.
Randy quickly became so disgusted by union officials' deceptions about health care benefits that he created his own website critical of the IBEW union hierarchy (the website still stands at www.ibew47.com). When Randy inquired about health care benefits, one IBEW official blew him off scorning, "we don't like your kind." Once they realized that he was exercising his freedom of speech on his website, union officials filed a lawsuit against Randy for libel and tried to extract $25,000 from him in Orange County Superior Court. Moreover, the union expelled Randy and levied $250,000 in trumped-up fines against him.
With his First Amendment rights threatened, Randy hired a private attorney to defend his use of the website and repel the union lawyers' bogus claims. The court ruled in Randy's favor in all counts. Still, union officials sought to collect on their internal union fine.
Randy's short-term contract with SCE ended after nine months, prompting him to accept a full-time position with the company. IBEW union officials pounced on this opportunity to seize more forced dues from Randy, coercing him into signing an automatic dues deduction card. At that point, Randy had enough and turned to the National Right to Work Foundation for free legal assistance.
With help from attorneys at the Foundation, Randy filed an unfair labor practice charge with the National Labor Relations Board. The charge alleged that union officials could not force Randy to pay any dues whatsoever as a condition of employment – even though California is not a Right to Work State – since he had been kicked out of the union for reasons other than failing to pay forced fees.
The IBEW union settled the charges in Randy's favor. The hierarchy paid Randy over $8,000 in private attorney fees he incurred defending himself from the union's retaliatory lawsuit and repaid him more than $800 in ill-gotten forced dues. In the end, Foundation attorneys helped Randy to force union officials to rescind the $250,000 fine and end taking forced dues from his paychecks.
Randy in His Own Words
"The union's website clearly states all members get 'fully-paid health insurance' and that 'the same set of rules applies to everyone.' When I called the union office to ask them about the 'fully-paid health insurance,' I was told, 'we don't like your kind.'" –Randy describing the IBEW's failure to uphold health care promises
"The best way I can describe what happened after I contacted the Foundation is to say it was like a snowball rolling downhill which kept getting larger and picking up speed. When the snowball finally slammed onto the union's doorstep just before Christmas, Santa jumped out and gave me my life back." –Randy after forcing union officials to rescind their $250,000 fine against him
"I want to tell you that I feel 25 pounds lighter, that once again there is hope, and that my life has returned to normal because of your efforts." –Randy speaking about the free legal aid he received from Foundation attorneys
Foundation Action Features
Randy's Website Exposing Union Betrayal