The following article is from the National Right to Work Legal Defense Foundation's bi-monthly Foundation Action Newsletter, March/April 2020 edition. To view other editions or to sign up for a free subscription, click here.
Workers seek rulings ordering union bosses to refund dues taken in violation of landmark decision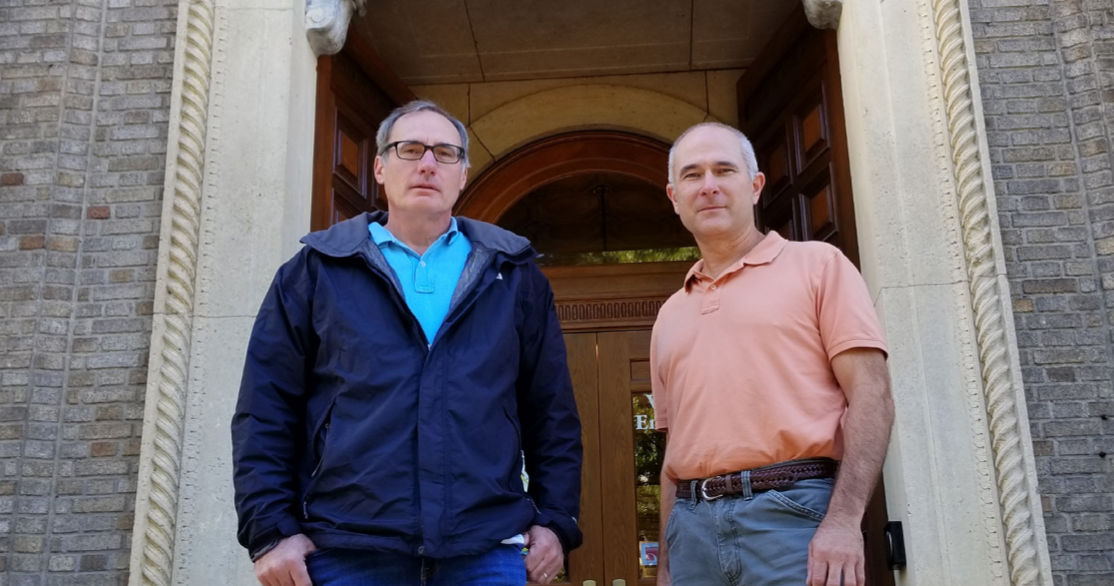 Connecticut public employees Kiernan Wholean (left) and James Grillo are fighting SEIU bosses at the Second Circuit Court of Appeals, demanding years of dues seized in violation of their Janus rights.
NEW YORK, NY – The Foundation's victory at the Supreme Court in Janus v. AFSCME set a groundbreaking precedent. The High Court finally recognized that requiring public sector workers to pay union dues as a condition of employment violates their First Amendment rights, and that "affirmative and knowing" consent is required before deducting dues from any employee.
But union bosses from AFSCME and other public sector unions still refuse to relinquish dues money that they seized from employee paychecks without their consent before the Janus decision came down. While Mark Janus continues his case  to get back seized dues, Foundation staff attorneys are also arguing in federal Courts of Appeals for other public servants from Connecticut and New Hampshire seeking the return of dues seized from thousands of workers in violation of the Janus precedent.
Connecticut, New Hampshire Public Workers Demand Refunds for Thousands
At the Second Circuit Court of Appeals, Connecticut Department of Energy and Environmental Protection (DEEP) employees Kiernan Wholean and James Grillo seek a ruling that will make Service Employees International Union (SEIU) Local 2001 bosses give back at least two years' worth of fees exacted from their paychecks in violation of Janus, plus interest. Because their lawsuit is a class action, a favorable ruling could result in refunds for hundreds of Connecticut public employees.
At the First Circuit Court of Appeals, Foundation staff attorneys are litigating another class action lawsuit for New Hampshire public employees Patrick Doughty and Randy Severance. Doughty and Severance are asking the court to make New Hampshire SEIU bosses return three years of unconstitutionally seized fees, as permitted by the statute of limitations.
All four employees are not members of their respective SEIU local unions. In these and similar cases, union bosses have used a dubious "good faith" argument to defend their seizing of dues before Janus came down. Foundation staff attorney Jeffrey Jennings points out in his argument for Wholean and Grillo that, on top of the Janus ruling making those deductions illegal, union bosses certainly have "no reasonable grounds for believing [they] could keep their money" after the Janus decision.
In Connecticut, Foundation staff attorneys in 2019 successfully secured a refund of dues seized before Janus for UConn accounting professor Steven Utke, whom American Association of University Professors (AAUP) bosses targeted with illegal dues deductions since he was hired in 2015. When AAUP officials chose to settle the case in 2019 after Foundation staff attorneys filed a lawsuit, Utke received back over $5,000 in refunds.
"The Supreme Court was crystal clear in Janus:  All union fees seized from a public worker without his or her consent violate the First Amendment," observed National Right to Work Foundation President Mark Mix. "Despite that clarity, union hierarchies around the country are still flush with dues money that was seized in violation of public employees' First Amendment rights."
Since the Janus decision in 2018, Foundation attorneys have litigated more than 30 cases seeking to enforce and expand the Janus victory. Ten of those have already resulted in refunds of seized dues for employees, including Oregon wildlife employee Debora Nearman's case, the first case in the nation to result in a refund of dues seized in violation of the Janus precedent. SEIU bosses were forced to settle and give back to Nearman nearly $3,000 in illegal fees they had seized from her over two years, during which they sponsored an aggressive political campaign against Nearman's own husband, who ran successfully for the Oregon Legislature in 2016.