The following article is from the National Right to Work Legal Defense Foundation's bi-monthly Foundation Action Newsletter, January/February 2019 edition. To view other editions or to sign up for a free subscription, click here.
Union bosses attempt to block public employees from ending union dues payments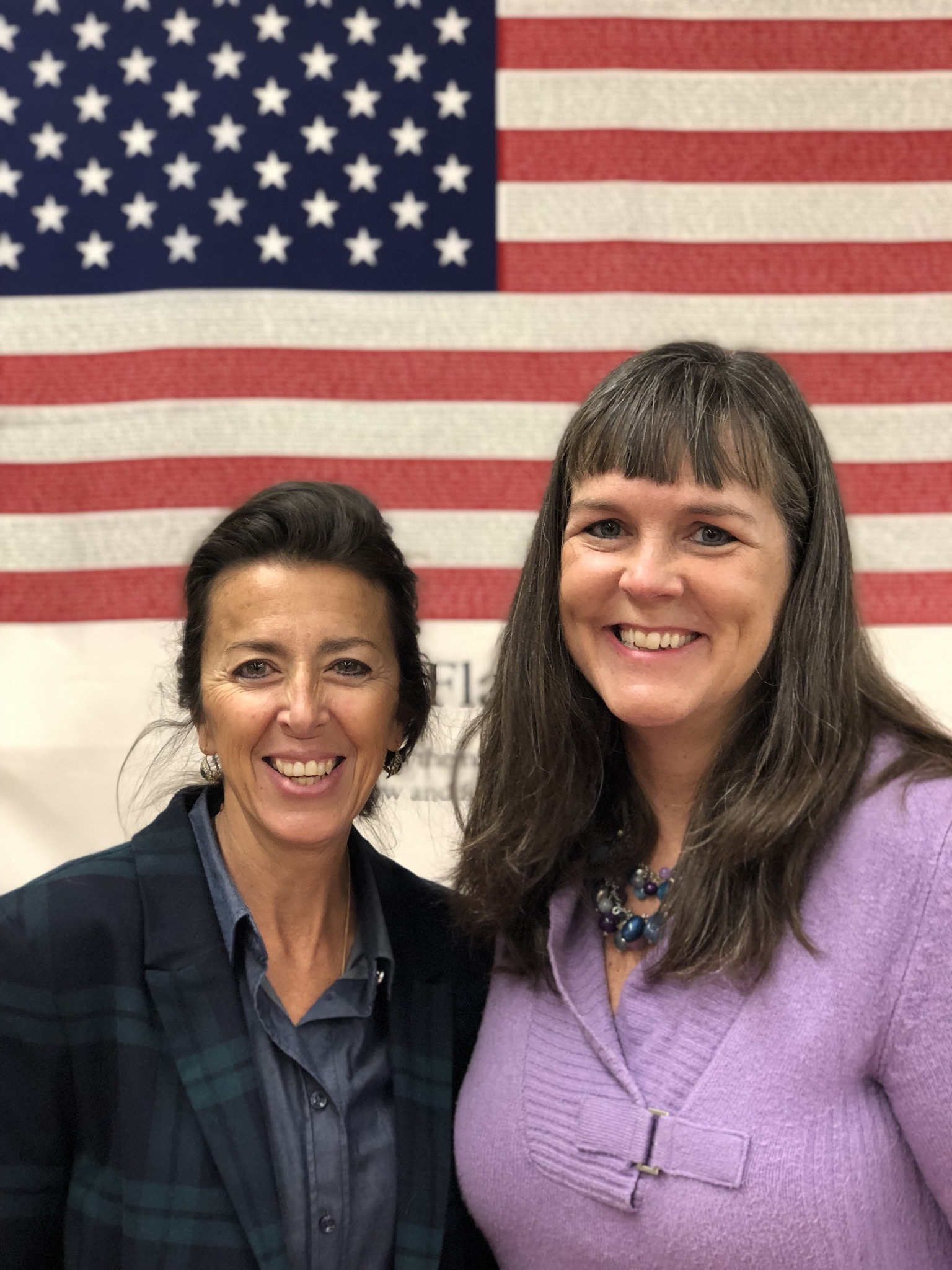 Foundation staff attorneys are litigating several class action lawsuits for civil servants, including teachers Susan Fischer (left) and Jeanette Speck, who are victims of union officials' coercive "window period" schemes.
TRENTON, NJ – The Foundation's Supreme Court victory in Janus v. AFSCME was a direct hit on Big Labor's forced fees coffers. As government employees have begun exercising their Janus protections, union officials have attempted to avoid the Supreme Court precedent and continue violating the rights of the workers they claim to represent.
Foundation staff attorneys are currently litigating more than fifteen cases to enforce the Janus decision. Recently, Foundation staff attorneys filed several class action lawsuits challenging union officials' "window period" schemes, arbitrary windows of time limiting when employees can exercise their First Amendment right to refrain from subsidizing a union.
NJ Teachers Challenge State Law Limiting Janus
Before Janus, New Jersey public school teachers Susan Fischer and Jeanette Speck, along with five million other public sector workers, were required to subsidize a union even if they were not union members.
"You have to pay if you join and pay if you don't join," said Fischer. "That was so un-American to us."
Days after the monumental ruling at the Supreme Court, both teachers resigned their union memberships under the Janus decision's protection of their choice to completely refrain from supporting a union. However, the teachers were informed that they could only stop payments and withdraw their membership during an annual 10-day window period.
In anticipation of Janus, New Jersey state legislators enacted a law in May to limit workers from exercising their rights under the then-pending Supreme Court decision except during the annual 10-day window. Fischer and Speck sought free legal aid from Foundation staff attorneys to file a lawsuit arguing that the law is unconstitutional and must be struck down.
In the class action lawsuit, filed against the Township of Ocean Education Association (TOEA), the New Jersey Education Association (NJEA), and the National Education Association (NEA) unions, Fischer and Speck also seek a refund of the union dues forced from their paychecks. The lawsuit asks the U.S. District Court to certify a class to include all other public employees whose attempts to resign and cease subsidizing a union following Janus have been rejected by the NJEA and its affiliates.
CA Homecare Provider Seeks to Stop Unconstitutional Forced Fees
Delores Polk, a California home healthcare provider who cares for her daughter, is not a voluntary member of an SEIU local union. However, pressured by an unsolicited call from an SEIU telemarketer, Polk verbally agreed to join the union and pay dues.
When Polk reconsidered days later and attempted to resign her membership and stop paying union dues, union officials informed her via letter that she had missed the "window period" to cut off payments and must wait another year before opting out.
Polk was never notified of her First Amendment rights, protected by Janus, to refrain from joining or subsidizing SEIU Local 2015, and did not sign any written documentation agreeing to be a union member or waiving her First Amendment rights as the Janus ruling requires.
Despite her lack of consent, the California State Controller, at the behest of SEIU Local 2015, continues to deduct union dues from the Medicaid funds Polk receives to care for her daughter.
Polk came to Foundation staff attorneys to file a lawsuit challenging the scheme. Her lawsuit asks the court to certify a class, including the potentially thousands of home healthcare providers who have been forced to pay union dues even after notifying the State Controller or SEIU Local 2015 officials, that they do not consent to financially supporting the union.
Ohio Civil Servants Sue AFSCME to Exercise First Amendment Rights
After Janus, several Ohio public sector workers each resigned their memberships from AFSCME Council 8. Despite the employees' desire to refrain from subsidizing the union, AFSCME union officials have continued siphoning union dues from the workers' paychecks, citing a union policy that restricts revocation of dues deductions to a narrow 15-day window before a new monopoly bargaining contract is enforced.
The workers sought free legal aid from Foundation staff attorneys to file a complaint. In the lawsuit, filed on behalf of all other Ohio public employees who were blocked by AFSCME Council 8 from exercising their Janus rights after attempting to cease paying union dues and fees, the workers ask the court to declare AFSCME's revocation policy unconstitutional and to stop union officials from collecting dues from non-consenting public employees. The class potentially includes thousands of workers.
On the same day that lawsuit was filed, Foundation attorneys filed another class action lawsuit against AFSCME for an Ohio civil servant seeking to reclaim forced union fees coerced from workers by AFSCME Local 11 officials before Janus. (Read more about that case here.)
These most recent lawsuits join several others in which Foundation staff attorneys are providing free legal aid to public employees, challenging policies that block their First Amendment rights under Janus. In just two examples, Pennsylvania school bus driver Michael Mayer and California court worker Mark Smith each filed federal complaints after union officials blocked their attempts to exercise their Janus rights.
"Contrary to the wishes of union bosses and their allies in state legislatures, First Amendment rights cannot be limited to just a matter of days out of the year," said Mark Mix, president of the National Right to Work Foundation. "The Foundation-won Janus decision at the Supreme Court recognized that all civil servants may exercise their rights to free speech and free association by resigning their union membership and cutting off union payments whenever they choose. Foundation staff attorneys remain committed to enforcing the constitutional rights of millions of public sector workers guaranteed by Janus."