The following article is from the National Right to Work Legal Defense Foundation's bi-monthly Foundation Action Newsletter, January/February 2020 edition. The West Virginia Supreme Court heard arguments in this case on January 15 and a decision is expected in the coming months. To view other editions or to sign up for a free subscription, click here.
Foundation continues to defend all Right to Work laws against Big Labor attack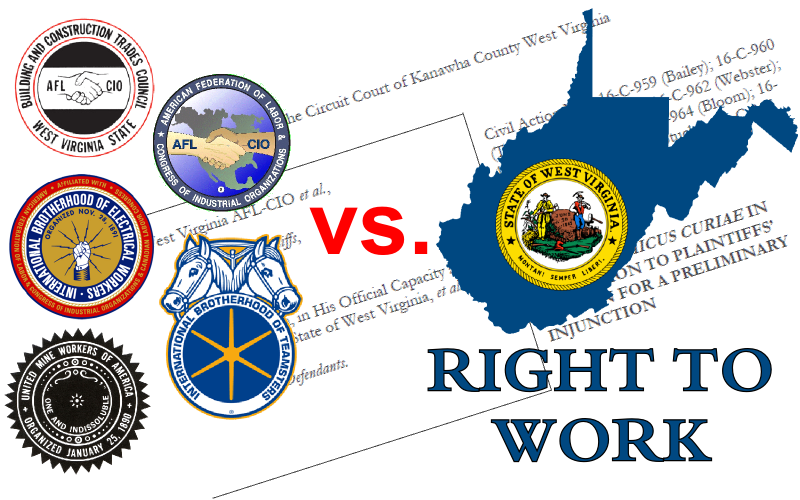 Forced-dues-hungry union bosses have been waging a legal battle to overturn West Virginia's Right to Work Law since it was enacted in 2016. Foundation staff attorneys have been fighting back by filing amicus briefs in court.
CHARLESTON, WV – The West Virginia Supreme Court will hear arguments on January 15 in union bosses' long-running case seeking to dismantle West Virginia's Right to Work Law and restore their forced-dues powers over workers across the Mountain State. National Right to Work Foundation staff attorneys have already filed multiple legal briefs in this case for West Virginia workers in defense of West Virginia's Right to Work Law.
After Passage, Union Bosses Immediately Target West Virginia Right to Work Law
Last year, union lawyers relied on discredited legal arguments to convince Kanawha County Circuit Court Judge Jennifer Bailey to declare West Virginia's entire Right to Work Law invalid. Union lawyers dubiously claim that West Virginia union bosses have a "right" to forced dues. Judge Bailey issued a similar ruling blocking the Right to Work law after the legislation was signed into law in 2016. The West Virginia Supreme Court overturned that decision, citing arguments made in briefs by Foundation staff attorneys. "Of course, union partisans never willingly accept the loss of forced dues," said National Right to Work Foundation President Mark Mix. "So now the issue is back at the state's highest court." If Big Labor's lawsuit to overturn
West Virginia's Right to Work Law succeeds, union bosses could have thousands of independent-minded workers across the state fired solely for refusing to subsidize union activities.
Foundation Files 10 Briefs to Protect Rights of West Virginia Workers
Foundation staff attorneys have filed 10 legal briefs in the multi-year case. The Foundation's latest amicus brief was filed for West Virginia nursing home employee Donna Harper. Harper, like many other workers in West Virginia, chose not to pay dues or fees to union bosses, which is her legal right in a Right to Work state.
"Union bosses in West Virginia are intent on reclaiming their forced-dues power," Mix said. "Big Labor is waging this protracted legal battle to return the Mountain State to a time when millions and millions of dollars in workers' money were seized by union bosses to fill Big Labor's coffers with forced dues."
This case is the latest legal battle in the Foundation's long history of effectively defending Right to Work laws in state and federal court from spurious attacks by Big Labor. Although federal law specifically authorizes states to pass Right to Work laws to protect workers from union boss coercion, union lawyers have repeatedly challenged these laws in an attempt to keep siphoning union dues and fees from workers' paychecks.
Foundation Has Successfully Defended State Right to Work Laws Nationwide
In addition to West Virginia, Foundation staff attorneys have successfully pursued legal action in recent years to defend and enforce new Right to Work laws in Indiana, Michigan, Wisconsin and Kentucky, all of which have passed Right to Work protections for employees in just the last seven years. In Michigan alone, Foundation staff attorneys have assisted employees in over 100 cases since Right to Work went into effect in early 2013.