The following article is from the National Right to Work Legal Defense Foundation's bi-monthly Foundation Action Newsletter, January/February 2019 edition. To view other editions or to sign up for a free subscription, click here.
Homecare providers challenge mandatory union 'representation' as First Amendment violation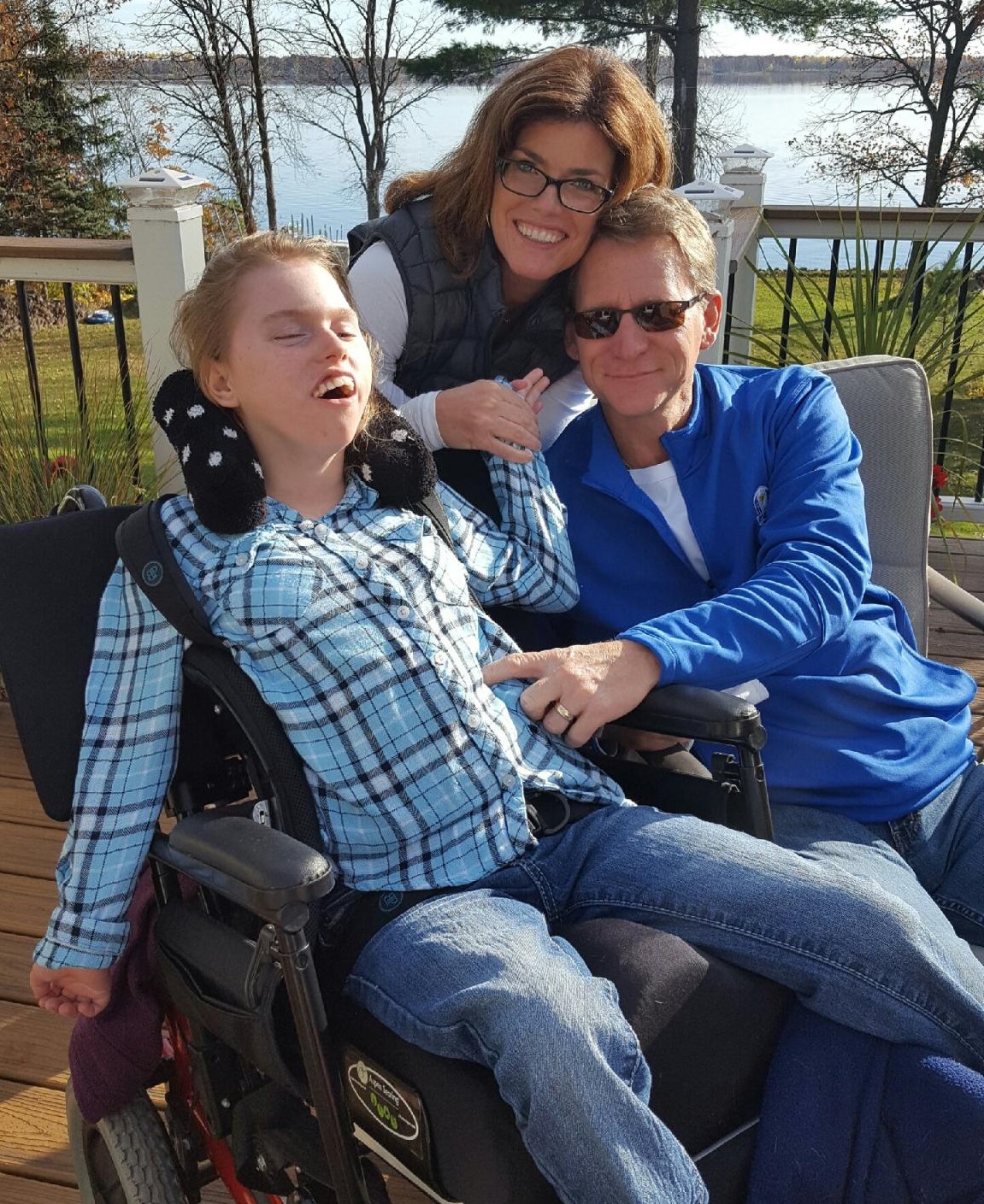 SEIU bosses force Teri Bierman (pictured with her family) to affiliate with the union as a condition of caring for her own daughter in her own home.
WASHINGTON, D.C. – With free legal representation provided by National Right to Work Foundation staff attorneys, a group of homecare providers seeking to care for their sons and daughters without union boss interference have taken their case to the U.S. Supreme Court.
The providers' lawsuit, Bierman v. Dayton, challenges a Minnesota scheme that forces thousands of providers under the exclusive monopoly "representation" of Service Employees International Union (SEIU) officials.
Bierman follows on the heels of Janus v. AFSCME, argued and won at the Supreme Court by Foundation staff attorneys. In Janus, the Court declared forced union fees for public sector employees to violate the First Amendment and opened the door to further cases seeking to uphold workers' right of freedom of speech and freedom of association.
Suit: Monopoly Bargaining Violates Freedom of Association
Teri Bierman and the seven other petitioners provide homecare services to their sons and daughters and receive state Medicaid assistance to help pay for the care.
After Minnesota declared homecare providers to be "state employees" solely for unionization purposes, SEIU Healthcare Minnesota officials moved to put all under the "exclusive representation" of union officials.
Once granted, "exclusive representation" made union officials the state-designated representative of all providers, even those opposed to unionization and who would prefer to represent themselves or be represented by a different organization.
SEIU officials notified the state that, if the union was certified, it would not force non-members to pay union fees, which the U.S. Supreme Court held to be unconstitutional for homecare providers in the Foundation-won Harris v. Quinn decision in 2014. Union officials would still, however, have the power to act as homecare providers' sole "representative" in lobbying the state.
Concerned that the impending vote could empower union bosses to interfere with their care for their children, the group of nine homecare providers came to Foundation staff attorneys to challenge the encroachment on their First Amendment rights.
In August 2014, SEIU officials won a sham mail-in election in which just 13 percent of the nearly 27,000 care providers voted in favor of SEIU affiliation.
Consequently, even though seven out of eight providers didn't vote for unionization, SEIU officials are now empowered to deal with the State for all care providers.
"The sparse vote only adds insult to injury for these homecare providers opposed to union affiliation," said National Right to Work Foundation Vice President and Legal Director Ray LaJeunesse. "It's wrong, and contrary to the principle of freedom of association, to force them to affiliate with and accept the so-called representation of a private organization they oppose."
The homecare providers continue to challenge the forced union "representation." Their legal odyssey has so far taken four and a half years, and is now at the steps of the Supreme Court. In December, Foundation staff attorneys filed a petition for certiorari with the High Court, asking it to hear the case.
Janus Victory Opens Door for Further First Amendment Protections
By asking the Court to declare it a First Amendment violation to force homecare providers to submit to union officials' sole power to speak for them to the state, Foundation staff attorneys seek to build on the Janus victory in June 2018. In Janus, Justice Samuel Alito wrote in his opinion for the Court: "Designating a union as the employees' exclusive representative substantially restricts the rights of individual employees."
Foundation staff attorneys are litigating another challenge to union officials' monopoly bargaining privileges in Mentele v. Inslee, brought by Washington homecare providers. Mentele was argued at the Ninth Circuit U.S. Court of Appeals in December.
"Forcing folks who care for their relatives into forced union representation is a slap in the face of fundamental American principles we hold dear," continued LaJeunesse. "If the Supreme Court agrees to hear Bierman, these homecare providers will be one step closer toward vindicating their rights and establishing First Amendment protections for thousands of other individuals."