The following article is from the National Right to Work Legal Defense Foundation's bi-monthly Foundation Action Newsletter, July/August 2022 edition. To view other editions of Foundation Action or to sign up for a free subscription, click here.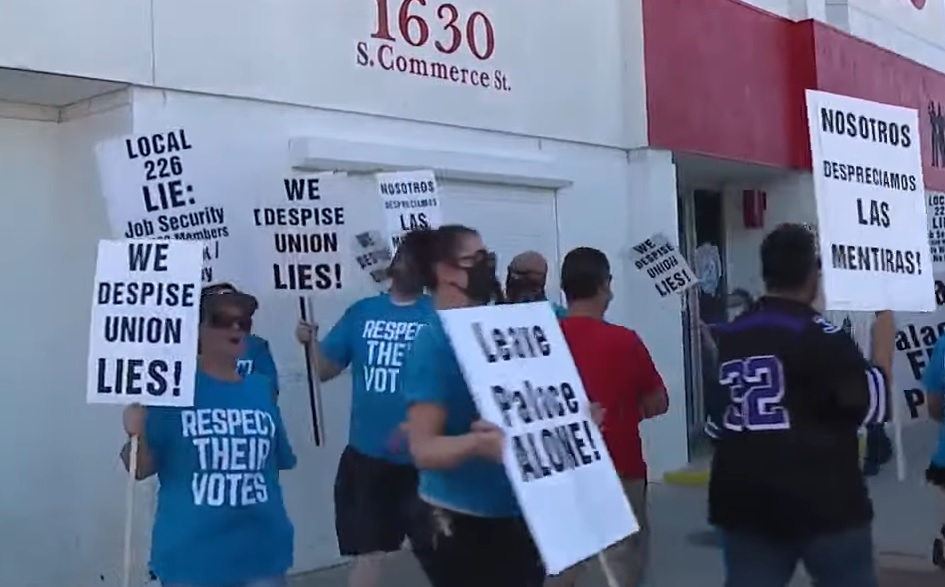 NLRB Regional Director stacks deck against Las Vegas employees opposed to union affiliation
Despite massive opposition from rank-and-file casino workers including protests outside union headquarters, biased NLRB rulings keep workers trapped in union ranks.
LAS VEGAS, NV – Red Rock Casino slot machine technician Jereme Barrios has asked the National Labor Relations Board (NLRB) in Washington, DC, to reverse an NLRB Region's decision that blocks his and his coworkers' right to vote out a union that a large majority of them have already expressed interest in removing. Barrios is receiving free legal representation from National Right to Work Foundation staff attorneys.
In March, Barrios submitted a majority-backed petition to NLRB Region 28, asking the agency to conduct a union "decertification vote" amongst his fellow slot technicians on whether to kick out International Union of Operating Engineers (IUOE) Local 501 officials.
Foundation Attorneys Excoriate Decision: 'a Scattershot Mess'
However, the Region did not schedule the vote as Barrios and his coworkers had asked. NLRB Region 28 Director Cornele Overstreet instead ruled in April that largely unverified and unrelated allegations (also called "blocking charges") union officials had made against the management of Station Casinos, Red Rock's parent company, blocked the technicians from exercising their right to vote whether to remove the union.
Barrios' Request for Review argues that the Region's decision is unfounded, and requests that the NLRB in Washington, DC, reverse it and allow them to have an immediate decertification vote.
Barrios' Request for Review begins by explaining that, even if any of the union's "blocking charges" have merit, the NLRB Regional Director was ignoring Foundation-backed reforms in the rules regarding "blocking charges" that the NLRB formally adopted in 2020.
The reforms generally prevent union "blocking charges" from stalling an employee vote. Nevertheless, "The Regional Director ignored the current Election Rules and even refused to cite them," Barrios' Request for Review says.
But Barrios' Foundation-provided attorneys go even deeper and show that many of the IUOE union officials' allegations against casino management would not even be sufficient to block a vote under the old rules, primarily because they deal with workplace units other than Barrios'.
By that logic, "any employer's unfair labor practice could block any decertification in any of its other units, no matter how remote," Foundation staff attorneys argue.
The remaining union "blocking charges," including an allegation that Red Rock management did not bargain over COVID-19 protections, either do not reveal actual violations of federal labor law by Red Rock management or have no causal connection to Barrios and his colleagues' desire to remove the union.
More Workers Battle Unpopular Unions and Biased NLRB with Foundation Help
The slot techs' effort comes as Red Rock hospitality and foodservice staff, led by Foundation-backed employee Raynell Teske, are battling an order from a federal district court judge that forces them under the "representation" of Culinary Union bosses. That order was issued despite the fact that a majority of the hospitality and foodservice employees voted in a secret-ballot election to reject Culinary Union officials' effort to install themselves at the casino.
Foundation-represented Palms Casino engineering worker Thomas Stallings is also in a situation similar to Barrios'. Stallings and his coworkers are fighting another decision from NLRB Regional Director Overstreet that traps them under the monopoly control of unpopular IUOE and International Union of Painters and Allied Trades (IUPAT) officials, merely on the basis of "blocking charges" having little if anything to do with Stallings' work unit.
Independent-Minded Workers Showing Courage in Face of Coercion
"Las Vegas is now where regional NLRB officials have, in multiple instances, reflexively sided with union boss requests to remain in power at workplaces in which a clear majority of workers want the union gone," commented National Right to Work Foundation Vice President and Legal Director Raymond LaJeunesse. "Las Vegas is indeed 'Sin City,' if the sin is disrespecting workers' fundamental right to choose freely whether or not union bosses should speak for them."
"Foundation attorneys are proud to stand by these courageous workers, who are fighting not only union coercion but an NLRB Regional Director seemingly determined to undermine the rights of workers opposed to union affiliation," LaJeunesse added.