The following article is from the National Right to Work Legal Defense Foundation's bi-monthly Foundation Action Newsletter, March/April 2023 edition. To view other editions of Foundation Action or to sign up for a free subscription, click here.
Foundation-aided Ohio workers have already won string of victories over union-imposed 'escape periods'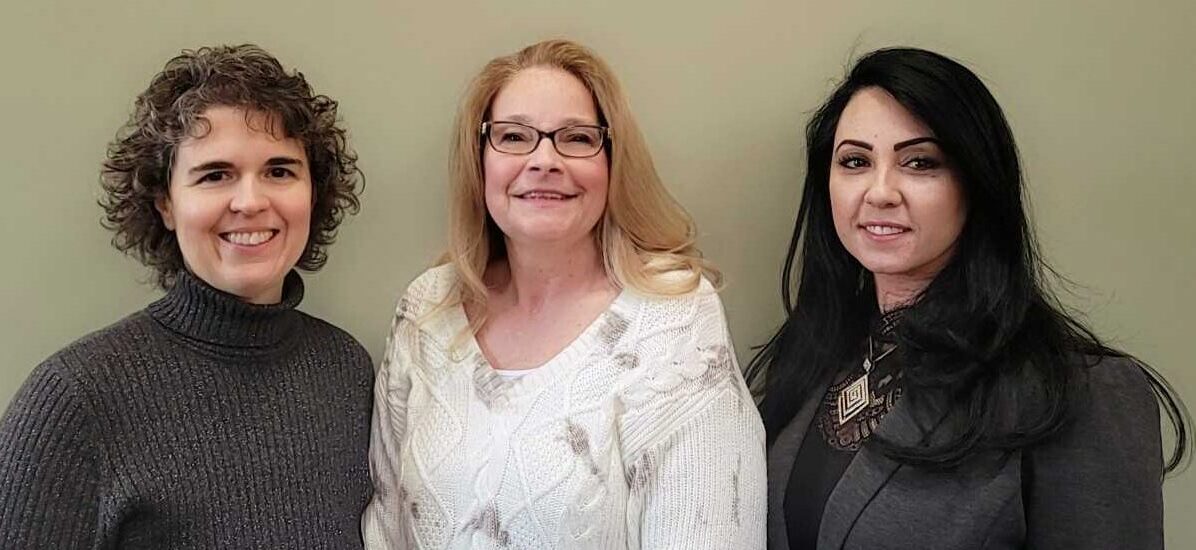 From left: Penny Wilson, Theresa Fannin, and Kozait Elkhatib aren't taking AFSCME union officials' onerous First Amendment restrictions sitting down. With free Foundation legal aid, they will continue the fight to protect Janus in Ohio.
TOLEDO, OH – American Federation of State, County, and Municipal Employees (AFSCME) union bosses seem to have a knack for violating Ohio public workers' First Amendment right to refrain from paying union dues.
Fortunately, National Right to Work Foundation staff attorneys are even more adept at forcing Ohio AFSCME bosses to back down from their unconstitutional dues schemes, and have led Ohio government workers to victory in several such cases.
The latest case in this saga comes from three Lucas County Job and Family Services (JFS) employees, who in December filed a federal civil rights lawsuit against the AFSCME Ohio Council 8 union and their employer for violating their constitutional rights.
Penny Wilson, Theresa Fannin, and Kozait Elkhatib's lawsuit says AFSCME union officials illegally seized money from their paychecks in violation of their First Amendment rights as recognized in the landmark 2018 Foundation-won Janus v. AFSCME U.S. Supreme Court decision. The Ohio public employees are receiving free legal aid from the National Right to Work Foundation and the Ohio-based Buckeye Institute.
Union Officials Kept Employees in the Dark About Janus Freedoms
In Janus, the Court declared it a First Amendment violation to force public sector workers to pay union dues or fees as a condition of employment. The Court also ruled that union officials can only deduct money from the paycheck of a public sector employee who has voluntarily waived his or her Janus rights.
"Plaintiffs . . . file this suit to stop Lucas County JFS and AFSCME from seizing union payments from them without their consent and to receive compensation for violations of their First Amendment rights," reads the workers' complaint.
Officials from AFSCME Council 8 and Lucas County JFS enforce a policy which permits the direct deduction of union dues from employees' paychecks. According to the policy, employees who wish to stop subsidizing the union have only a few days per year in which to do so — an "escape period" that effectively forbids the exercise of their First Amendment Janus rights for more than 90 percent of the year.
AFSCME union officials never informed Wilson, Fannin, and Elkhatib of this restriction. Union officials also never told the women that they had a First Amendment right under Janus to abstain from dues deductions, or that union dues could only be taken from them if they waived that right.
The employees discovered their Janus rights and attempted to exercise those rights twice by sending letters to AFSCME union officials stating that they were ending their union memberships and terminating dues deductions. AFSCME union officials denied all three women's requests, stating that union dues deductions would continue because the letters missed the narrow "escape period" imposed by the union.
Wilson, Fannin, and Elkhatib's lawsuit seeks to stop Lucas County JFS and AFSCME union officials from seizing dues from their paychecks. It also seeks a refund of all union dues taken from their wages without their consent.
Foundation Janus Victories Continue to Stack Up in Ohio
Independent-minded Ohio public employees are on a winning streak against AFSCME officials' "escape period" arrangements. Foundation attorneys scored a significant victory for Ohio public servants' Janus rights in a 2020 lawsuit against another Ohio AFSCME local (Council 11). Rather than face off against Foundation attorneys, those AFSCME union officials backed down and settled the case. As a result, Foundation attorneys freed almost 30,000 Ohio public employees from a "maintenance of membership" scheme that limited the exercise of Janus rights to roughly once every three years.
In fact, Wilson, Fannin, and Elkhatib's suit isn't the first time that Foundation attorneys have faced off against AFSCME Council 8 officials. In 2019, Foundation attorneys brought a similar First Amendment suit for seven Ohio employees that brought down another restrictive "escape period" enforced by Council 8 chiefs.
AFSCME Council 8 Officials Caught Red-Handed Again Violating First Amendment
"Even after abandoning other 'escape period' schemes to avoid facing Foundation staff attorneys in court, shameless AFSCME union officials continue to violate the Janus rights of the very employees they claim to 'represent,'" commented National Right to Work Foundation Vice President Patrick Semmens.
"America's public workers should not have to file federal lawsuits to protect their money and their First Amendment rights from the predations of public sector union officials."