The following article is from the National Right to Work Legal Defense Foundation's bi-monthly Foundation Action Newsletter, March/April 2021 edition. To view other editions or to sign up for a free subscription, click here.
IUOE bosses' scheme renames forced-fee payments clearly outlawed in Janus decision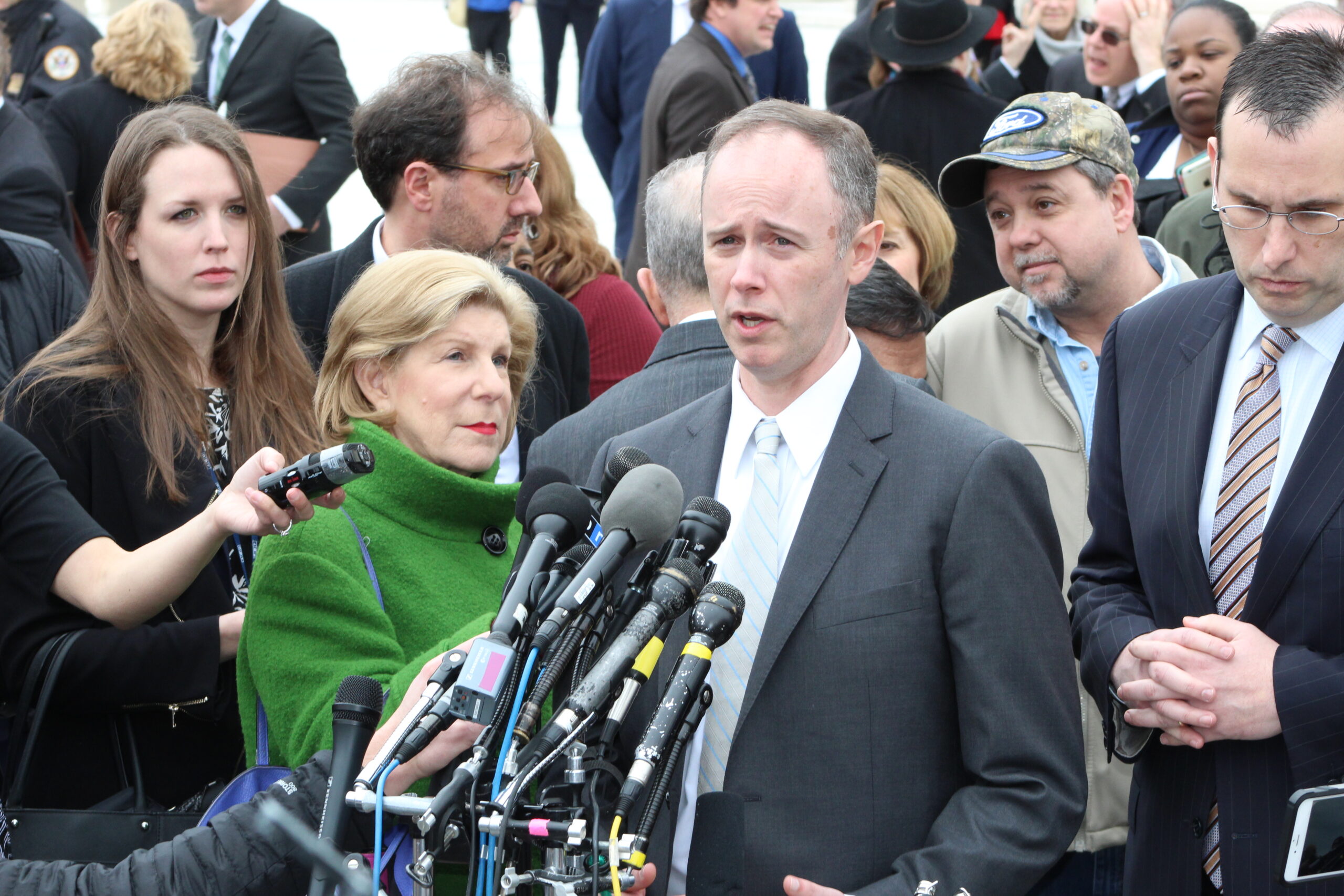 Veteran Foundation staff attorney William Messenger successfully argued Janus over two years ago, but union bosses are still concocting schemes to circumvent it. Timothy Crane is now fighting a particularly flagrant example.
CINCINNATI, OH – With free legal aid from National Right to Work Foundation staff attorneys, City of Hamilton employee Timothy Crane is suing International Union of Operating Engineers (IUOE) Local 20 union officials and the City of Hamilton for seizing a compulsory fee from his paycheck in violation of his First Amendment rights.
His complaint, filed in the U.S. District Court for the Southern District of Ohio, contends that union bosses are infringing on his rights under the Janus v. AFSCME decision by forcing him to pay a so-called "agreement administration fee" equal to more than 90 percent of full union dues as a condition of his employment.
In the 2018 Foundation-won Janus decision, the High Court ruled that no public worker can be forced to pay union dues or fees as a condition of getting or keeping a job. The Court also held that union dues or fees can only be deducted from a public employee's paycheck if that employee clearly and affirmatively waives his or her right not to pay. Justice Samuel Alito wrote for the Court majority that "such a waiver cannot be presumed" by union or state officials.
Even After City Employee Exercised His Janus Rights, Union Honchos Seized Fees
Crane sent letters to IUOE union officials in both August and September of 2020, attempting to exercise his First Amendment Janus right to end dues deductions from his paycheck. After sending these two letters, however, he discovered that an "agreement administration fee" was now being taken from his pay by the City at the behest of IUOE union bosses.
Crane's complaint contends that this is just a so-called "agency fee" — compulsory union payments charged to employees who refrain from formal union membership that were definitively outlawed by the Janus v. AFSCME decision — masquerading under a different name. The suit urges the District Court to declare it unconstitutional for IUOE Local 20 and the City of Hamilton to force him to pay this compulsory union fee. Crane's lawsuit also seeks a refund of all money that the union has illegally taken from his paycheck under the unconstitutional arrangement.
Chain of Foundation-backed Janus Victories for Ohio Workers Likely to Continue
Since Janus was handed down by the Supreme Court, Foundation staff attorneys have already won favorable settlements in four cases for Buckeye State public workers who have challenged illegal union-created restrictions on the exercise of Janus First Amendment rights. In a July 2020 settlement in a class-action lawsuit filed by four state workers, nearly 30,000 Ohio public employees were freed from an "escape-period" scheme imposed by Ohio Civil Service Employees Association (OCSEA) union chiefs, which limited to just a handful of days every few years the time in which a public employee could exercise his or her Janus rights.
"IUOE bosses, who may have thought they were going to trick employees into funding their agenda against their will with this blatantly unconstitutional scheme, have now been caught red-handed," commented National Right to Work Foundation Vice President and Legal Director Raymond LaJeunesse. "Rank-and-file workers like Mr. Crane now see that IUOE officials are far more interested in keeping hard-earned employee cash flowing into their coffers than in respecting the First Amendment rights of the workers they claim to represent."
LaJeunesse continued: "The string of Foundation victories for independent-minded Buckeye State employees who just want to exercise their First Amendment rights is not going to end here."