The following article is from the National Right to Work Legal Defense Foundation's bi-monthly Foundation Action Newsletter, January/February 2022 edition. To view other editions of Foundation Action or to sign up for a free subscription, click here.
Union bosses rejected by Alabama Amazon workers now ousted by car wash employees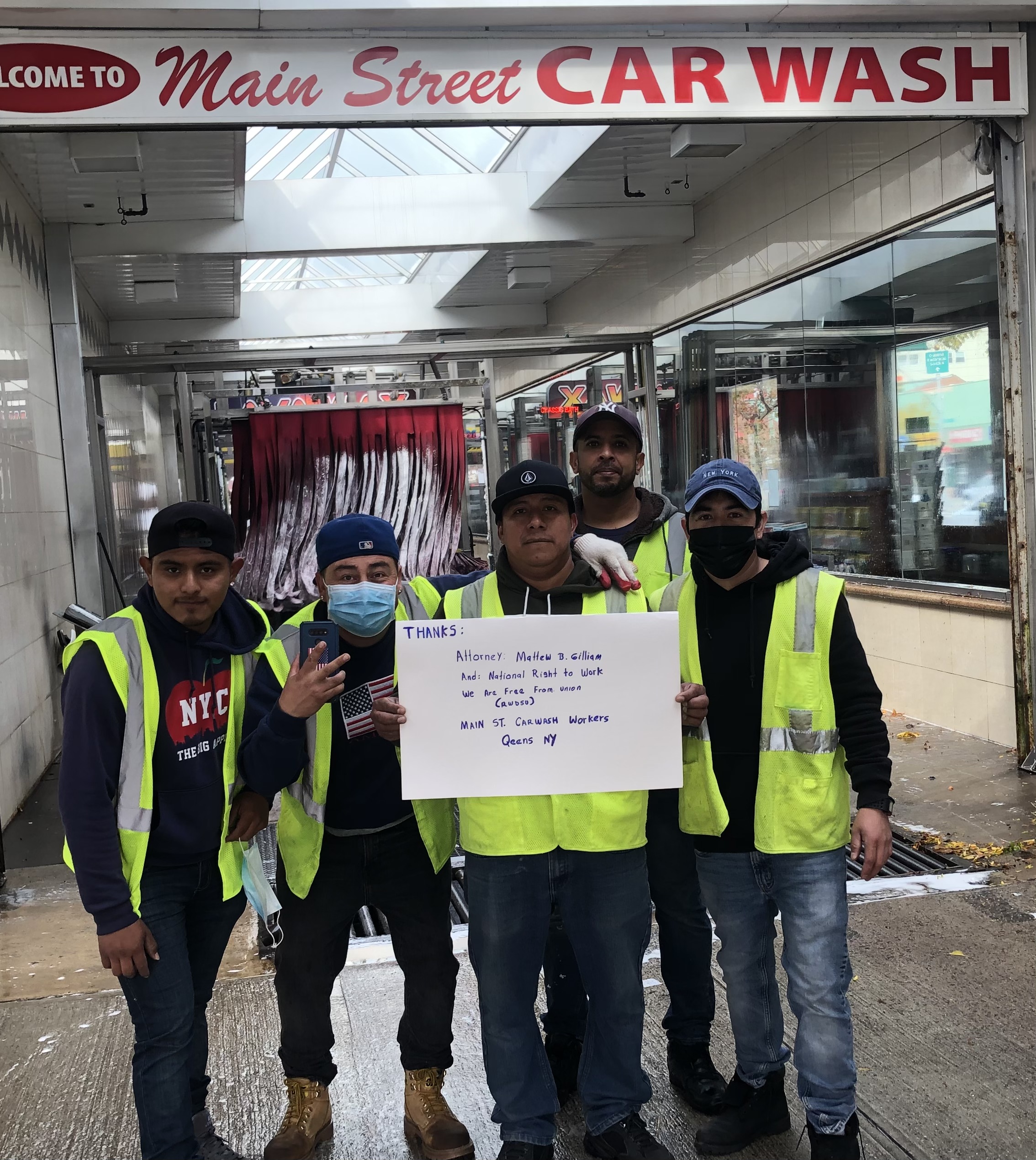 Main Street Car Wash worker Ervin Par (center) and his colleagues in NYC thank their National Right to Work Foundation attorney for helping them secure a vote to remove unwanted RWDSU union bosses from their workplace.
NEW YORK, NY – In 2018, Ervin Par, an employee of Main Street Car Wash in Queens, NY, explained why he and his coworkers overwhelmingly wanted Retail, Wholesale, and Department Store Union (RWDSU) officials out of their workplace: "They just come and collect their fees, but I don't see an economic benefit from the union."
"Among my colleagues, there's a majority that doesn't want the union," Par told Reason magazine in an interview at the time. Now, after a three-year effort to vote out RWDSU officials, Par and his coworkers have finally succeeded with free legal aid from National Right to Work Foundation staff attorneys.
Soon after Par submitted an October petition signed by enough of his coworkers to prompt the National Labor Relations Board (NLRB) to conduct an employee vote whether to eject the union, RWDSU officials filed paperwork ending their control over the facility. Notably, RWDSU union officials fled Main Street Car Wash before the NLRB had conducted the union decertification election for Par and his coworkers — likely in an attempt to avoid an embarrassing, overwhelming rejection in the vote.
Car Wash Employees Endured Years of Forced Dues, Union "Blocking Charges"
Par also rallied his coworkers in 2018 to oust the union, but their valid petition for a decertification election was thwarted by "blocking charges" from RWDSU officials. Because Par and his colleagues work in non-Right to Work New York, the delays meant that they were forced to pay dues to an unpopular union for almost three more years just to keep their jobs. In contrast, in Right to Work states all union financial support is strictly voluntary.
Par and his coworkers' desire for freedom from union control is not uncommon. According to reports, in 2018 Main Street Car Wash was one of only six car washes in New York City still under union monopoly control, a number that had been declining following other union departures due to lack of employee support.
RWDSU Bosses Oppose Will of Rank-and-File Workers Across Country
The RWDSU is notably the same union that Bessemer, AL, Amazon employees rejected decisively during a highly publicized April 2021 union election. Despite that election loss, RWDSU officials are still trying to install themselves at the Bessemer facility. Litigation continues over whether RWDSU lawyers will nullify the workers' vote in which barely 12% of eligible voters supported union bosses' monopoly "representation."
Atlanta, GA-area employees of water treatment company Ecolab have also recently received free Foundation legal assistance in their attempt to remove RWDSU officials.
"Mr. Par and his coworkers persevered for almost three years to end RWDSU union officials' grip on power in their workplace," commented National Right to Work Foundation Vice President Patrick Semmens. "Although we're glad the employees have finally been able to exercise their right to remove RWDSU, union officials should not have been able to manipulate the rules to stifle the decertification effort for so long."
"RWDSU union officials have a penchant for challenging the will of the very employees they claim to 'represent.'" Semmens added. "Workers across the country who seek to remove unwanted RWDSU presence in their workplace should contact the Foundation for free legal aid in exercising their rights."