The following article is from the National Right to Work Legal Defense Foundation's bi-monthly Foundation Action Newsletter, March/April 2023 edition. To view other editions of Foundation Action or to sign up for a free subscription, click here.
Nurses' ultimate goal is to end Steelworkers union bosses' so-called 'representation' completely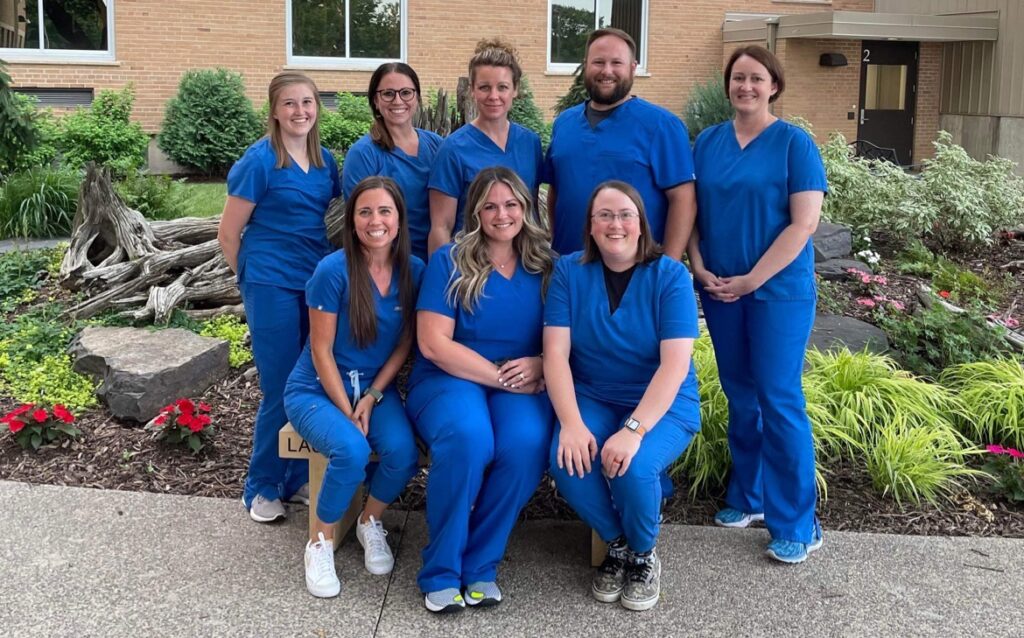 Austin, MN, Mayo nurse Erin Krulish and her coworkers hope to soon join Mankato, MN, Mayo nurses (above) in removing unwanted union "representation" from their facility.
AUSTIN, MN – Nurses at the Mayo Clinic Health System in Austin, Minnesota, recently voted overwhelmingly in a deauthorization election to end the power of United Steelworkers (USW) union officials to require nurses to pay up or be fired. The workers filed the deauthorization petition with National Labor Relations Board (NLRB) Region 18 with free legal representation from National Right to Work Legal Defense Foundation staff attorneys.
"We are so happy with the way the election turned out," Mayo Clinic Austin nurse Erin Krulish commented. "I think it really shows that all of us came together to show the union that we don't want to keep paying them when they are doing nothing for us."
Krulish filed the deauthorization petition for her coworkers seeking to end the so-called "union security clause" that authorizes USW union bosses to have nurses fired for refusing to financially support union activities. The request seeking the vote to end United Steelworkers union officials' forced-dues powers at Mayo Clinic Austin was signed by 49 of the 66 workers, well over the number required to trigger the NLRB-supervised election.
Ending Forced Dues Comes as Nurses Wait for Vote to Formally Remove Union
Minnesota is not a Right to Work state, meaning all workers in a unionized workplace can be required to pay dues or fees to a union as a condition of keeping their jobs. However, federal law does allow workers to hold deauthorization votes to end union officials' legal authority to force workers to "pay up or be fired," although winning such a vote can often be an uphill battle as independent workers have to take on professional forced-dues-funded union organizers.
The overwhelming 49-17 vote against mandatory union payments came as the nurses wait for the opportunity to end USW officials' so-called "representation" at the facility completely, a process known as decertification. "We plan to decertify come next December when our contract is up and we are ready for another fight!" Krulish said following the deauthorization victory.
Currently, the non-statutory NLRB-invented "contract bar" doctrine blocks workers from holding a decertification vote to remove a union's monopoly representation powers for up to three years when a union boss-imposed contract is in effect. Consequently, a deauthorization vote, which isn't limited by the contract bar, was the nurses' only option. If the nurses at the Austin Mayo Clinic do decertify as they plan, they will join Minnesota nurses at Mayo Clinic Mankato and Mayo Clinic St. James who voted to oust union officials from their hospitals in the last six months.
"No worker anywhere should be forced under so-called union 'representation' they oppose," commented National Right to Work Foundation President Mark Mix. "So while we're pleased Ms. Krulish and her coworkers were victorious against the Steelworkers union, this case also shows why it is past time to end the NLRB-sanctioned 'contract bar' which traps workers in union ranks they oppose for years at a time."
"Ultimately, Minnesota needs a state Right to Work law to ensure that every individual worker has the freedom to decide whether or not to financially support a union, even those who can't overcome the hurdles required to successfully navigate the complicated deauthorization process," added Mix.