The following article is from the National Right to Work Legal Defense Foundation's bi-monthly Foundation Action Newsletter, March/April 2022 edition. To view other editions of Foundation Action or to sign up for a free subscription, click here.
Union bosses caught red-handed illegally demanding dues from workers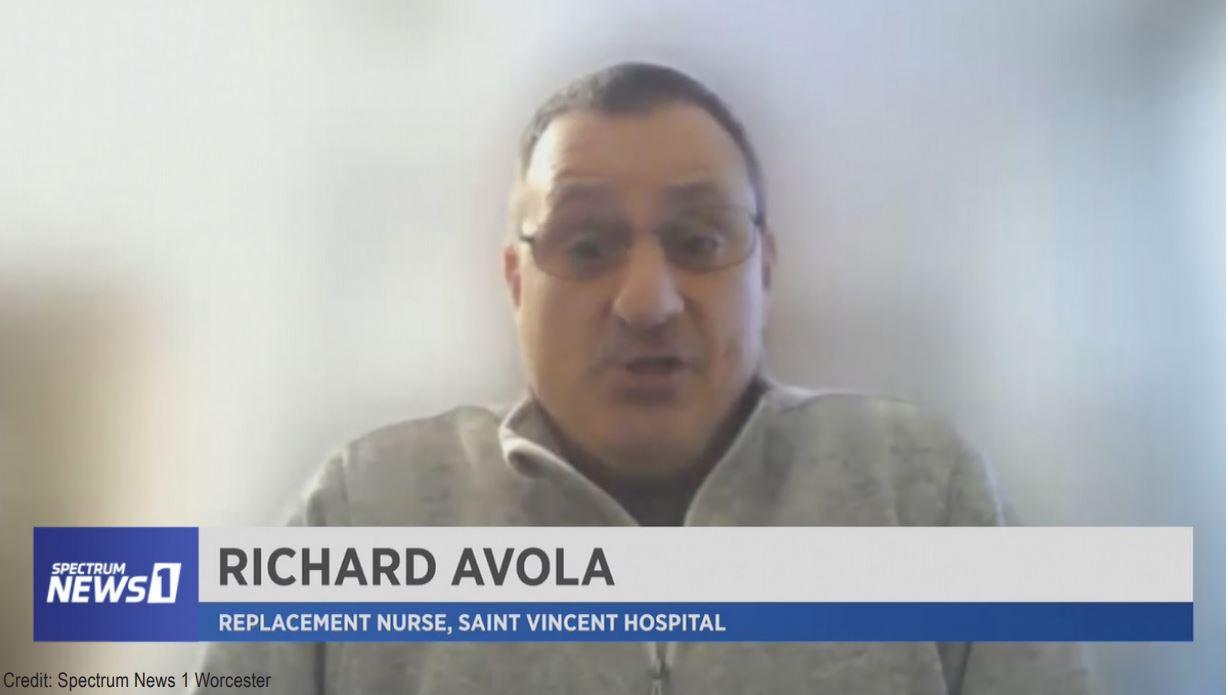 Many St. Vincent Hospital nurses reported the MNA union's 300+ day strike was filled with bullying and division. "Do we want to keep the MNA and continue that same behavior?" asked Nurse Richard Avola on Spectrum News 1.
WORCESTER, MA – Earlier this year, hundreds of nurses at St. Vincent Hospital in Worcester, MA, backed a petition to the National Labor Relations Board (NLRB), demanding a vote to oust Massachusetts Nurses Association (MNA) union officials from the facility. The effort followed a grueling, nearly year-long strike ordered by MNA bosses. As this issue of Foundation Action went to press, nurses were in the process of submitting ballots in the election.
Nurse Richard Avola submitted the petition to the NLRB in January. It contained enough employee signatures to trigger an NLRB-supervised decertification vote at the hospital. Soon after, he sought free legal aid from National Right to Work Foundation staff attorneys in defending the petition.
"People want change," Avola told a Spectrum News 1 Worcester reporter in January about the push for a vote. "They want change for our patients."
Protracted and Political Strike Rife with Intimidation, Many Nurses Report
Avola and his colleagues' endeavor came after a 300-day strike ordered by MNA chiefs against the hospital — the longest strike in Massachusetts history. In response to inquiries from nurses impacted by the union bosses' strike order, Foundation staff attorneys in March 2021 issued a legal notice informing St. Vincent nurses of their right to work during the strike and to cut off dues payments to the MNA hierarchy. The notice offered free legal aid to St. Vincent nurses who encountered union pushback in the exercise of their individual rights.
The union boss-ordered strike was intensely acrimonious. Union agents reportedly engaged in many harassing acts against nurses who exercised their right to continue working during the strike, including putting photographs of working nurses on strike paraphernalia and taking illicit pictures of nurses' license plates. Despite the union-instigated campaign against rank-and-file nurses, high-profile elected officials, including U.S. Senators Ed Markey and Elizabeth Warren, vocally sided against nurses who continued treating patients while exercising their right to rebuff the union strike demands.
MNA Union Agents Admitted to Illegally Demanding Union Dues During Strike
As the push for a vote to decertify MNA gained momentum, evidence emerged that union officials had demanded dues payments from nurses for periods during the strike when no contract existed between hospital management and the MNA union. Demanding dues during a contract hiatus is forbidden by longstanding federal law.
In response, St. Vincent nurse Regina Renaud hit the MNA union with Foundation-backed federal charges in January, maintaining that MNA agents had sent such illegal demands to her and other nurses. Just one day after Renaud filed her charges, MNA union officials effectively admitted their dues demands had breached federal labor law. They mailed hundreds of "error" letters to nurses dubiously claiming the illegal bills were an "oversight." The union stated that it needed to "clean up" its records and warned that other similar demands might still go out to nurses.
While Renaud abstains from union membership, she is still forced to pay some dues to the union to keep her job because Massachusetts lacks Right to Work protections for private sector workers. However, this requirement does not exist in the absence of an active monopoly bargaining contract with a forced-dues clause. In Right to Work states, union membership and financial support are always strictly voluntary.
Ugly Strike and Illegal Dues Divide Nurses and Community
"It's easy to see why Mr. Avola and so many of his coworkers want to oust MNA operatives from St. Vincent Hospital: Union bosses forced nurses to endure a gruelingly long strike that divided the hospital and the community, while those who went back to work and refused to abandon their patients faced harassment and intimidation tactics," observed National Right to Work Foundation Vice President Patrick Semmens. "Ms. Renaud's charges show that MNA officials ignored even the most basic legal protections for workers who do not wish to financially support a union."
"Foundation attorneys will continue to fight for St. Vincent nurses' rights, including the right to dispense with unwanted union representation, and will ensure any MNA union boss legal tactics do not stifle the nurses' voices," Semmens added.