The following article is from the National Right to Work Legal Defense Foundation's bi-monthly Foundation Action Newsletter, July/August 2022 edition. To view other editions of Foundation Action or to sign up for a free subscription, click here.
CWA officials defied decades of law by rejecting worker's resignation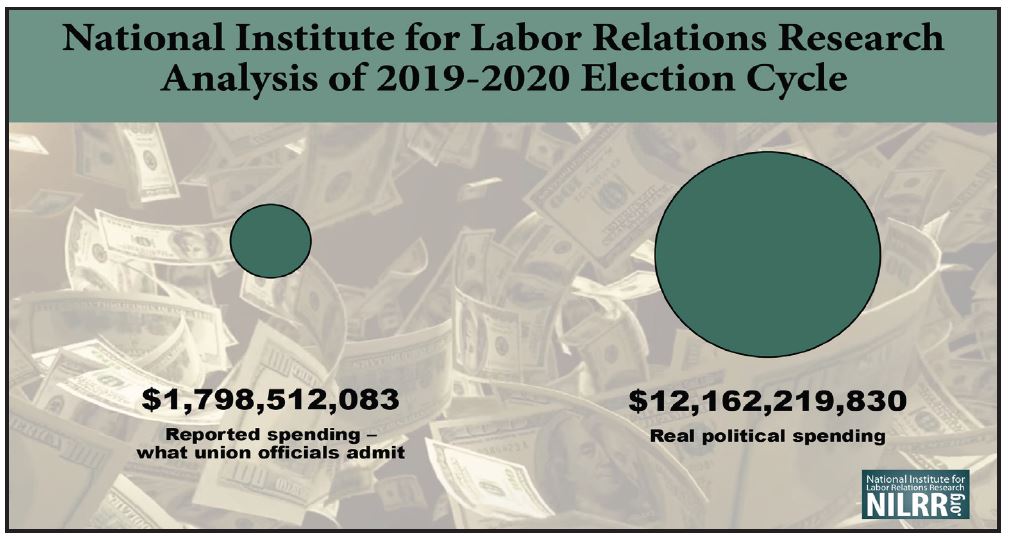 Coates' case challenging illegal seizure of forced dues for politics comes after one analysis found that union officials likely spent over $12 billion on political activities during the 2019-2020 election cycle, far more than union officials publicly admit.
GALETON, PA – An employee of metal corporation Catalus hit a Communications Workers of America (CWA) union local this May with federal charges for illegally seizing full union dues from his paycheck, including dues for politics. Curtis Coates, a metal worker for Catalus, is receiving free legal aid from the National Right to Work Legal Defense Foundation.
Foundation attorneys filed Mr. Coates' charges with National Labor Relations Board (NLRB) Region 6 in Pittsburgh, Pennsylvania. The Region is now investigating the charges.
CWA Union Officials Continue to Collect Dues from Worker, Despite Lack of Authorization
On October 20, 2021, Mr. Coates sent a message to CWA union officials declaring that he was resigning from his position as shop steward and terminating his union membership.
Because no union monopoly contract was in effect, under longstanding law, Coates should have been able to immediately cut all financial support for the CWA union which he no longer supports. The charges say a union official rebuffed both of Mr. Coates' requests the next day, insisting that he had to remain both a union member and a shop steward.
From December 2021 to February 2022, Mr. Coates followed up with union officials several times via email and mail. He repeatedly asked when union officials would cease taking dues money from his paychecks and what process he had to follow to revoke his dues deduction authorization to stop money from being seized from his paychecks.
"To date, the Union has not responded . . . and dues and contributions continue to be deducted from his wages," the charge reads. Because Pennsylvania currently lacks a Right to Work law, union officials can legally force employees to pay some union fees just to keep their jobs. However, those forced fees cannot be demanded when no union contract is in effect.
Further, even in states without Right to Work protections full union membership cannot be required. Additionally, under the U.S. Supreme Court's decision in CWA v. Beck (1988), won by Foundation attorneys, forced fees are limited to only the part of union dues that union officials claim goes toward a union's core "representational" functions and cannot be collected for other activities like union politics and lobbying.
Conflict of Interest: NLRB General Counsel is a Former CWA Union Official
Currently, the NLRB General Counsel is former CWA attorney Jennifer Abruzzo, who has expressed support for a number of policies which give union officials greater power to force workers into dues-paying union ranks, even without a vote. Foundation attorneys requested last year that Abruzzo recuse herself from a case involving an Oregon ABC cameraman who accused another CWA local of demanding illegal dues from him, including dues for politics.
Coates' case represents another potential conflict of interest for Abruzzo, who has repeatedly sided with union officials against the rights of workers opposed to union affiliation.
"Mr. Coates' right to refrain from funding union activities is being ignored by CWA union officials as they continue to unlawfully seize full union dues, which includes money used for union political activities," commented National Right to Work Foundation Vice President Patrick Semmens. "This case shows why Pennsylvania workers need the protection of a Right to Work law to make all union payments strictly voluntary: So union bosses cannot so brazenly collect money to which they are not entitled under longstanding federal law."
"Further, Mr. Coates' case demonstrates the obvious conflict of interest that exists as Abruzzo, a former CWA lawyer, is charged with enforcing workers' rights violated by her former CWA union colleagues," Semmens added.