The following article is from the National Right to Work Legal Defense Foundation's bi-monthly Foundation Action Newsletter, September/October 2018 edition.
Landslide vote against union bosses came after years of delay by Obama NLRB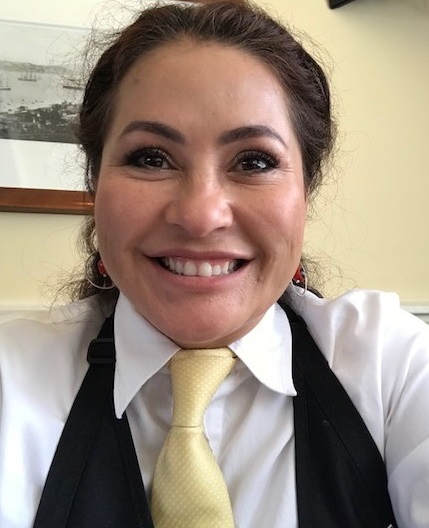 Georgina Canche and her fellow workers at Scoma's, a CA restaurant, finally ousted unwanted union officials from their workplace after years of legal delays.
SAUSALITO, CA – Workers at Scoma's of Sausalito, a California restaurant, held a decertification election on July 10 to remove the UNITE HERE union from their workplace, resulting in a 37-12 landslide vote against the union. The successful election was a culmination of over four years of employee efforts to remove the union's presence at the restaurant. The restaurant employees received free legal aid from National Right to Work Legal Defense Foundation staff attorneys in their efforts to exercise their rights to oust the unwanted union.
In 2013, restaurant employee Georgina Canche and a majority of her fellow coworkers successfully petitioned their employer to withdraw recognition of UNITE HERE as their monopoly bargaining representative. Although a majority of the employees signed the petition and the employer followed procedure established by longstanding labor law, the union filed a federal charge against the employer with the National Labor Relations Board to reinstate its monopoly bargaining powers, regardless of the workers' petition.
Obama Labor Board Trapped Workers in Unwanted Union for Four Years
The notoriously pro-forced unionism Obama Labor Board sided with union lawyers, and even issued a "bargaining order" to block attempts by the workers to hold a secret ballot vote to decertify and remove the union as the employee's monopoly bargaining representative." With the backing of the workers, Scoma's appealed the case to the D.C. Circuit Court of Appeals, which unanimously overturned the "bargaining order" and remanded the case to the Labor Board so that a decertification vote could proceed.
One judge wrote separately and excoriated the Board for its blocking charge policy that delays elections.
After additional delay, the NLRB Regional Director finally conducted a secret ballot decertification election, in which the workers voted overwhelmingly to remove UNITE HERE from their workplace. Thus, five years after a majority signed their petition to kick the union out of their workplace, the workers were finally free of the union.
"After years of dilatory legal challenges by union lawyers with the help of Obama-installed bureaucrats, the workers of Scoma's restaurant are finally able to have a say in their own workplace representation," said Patrick Semmens, vice president of the National Right to Work Legal Defense Foundation. "This case shows the legal trickery used by union bosses to hold onto their forced-dues powers, even when a clear majority of the workers the bosses claim to represent oppose their presence. This is why the Foundation's legal aid program is so vital in clearing the legal hurdles so workers can exercise their right to vote out a union they oppose."