NOTE: This article is from the March-April issue of Foundation Action, our bi-monthly newsletter. You can sign up to receive a print edition of the newsletter here.
---
Union Officials Hit with Lawsuit for Violating Utah's Right to Work Law
Workers sue company and union for illegally seizing nearly twelve thousand dollars in union dues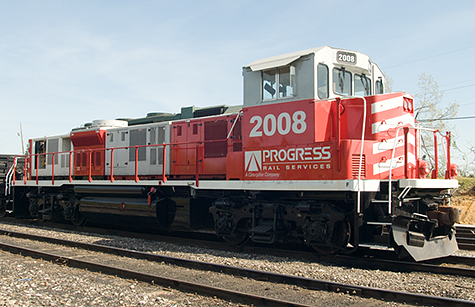 SALT LAKE CITY, UT - In Utah, four railroad car repairmen have filed a lawsuit contending that their employer and a local union violated their rights under Utah's popular Right to Work law and illegally coerced them into paying thousands of dollars in union dues.
With free legal assistance from National Right to Work Foundation staff attorneys, the four workers – Bryan Rees, James Rogers, Richard Simone, and Jason Wilson – sued Progress Rail, a wholly owned subsidiary of Caterpillar Inc., and the Brotherhood of Railway Carmen/International Association of Machinists (IAM) Local 6601 union in the Third Judicial District Court in Salt Lake County.
Union boss contract violates Utah's Right to Work law
Utah's popular Right to Work law, enacted in 1955, gives workers the unconditional right to refrain from union membership and dues payments.  Despite the Right to Work law, IAM Local 6601 union brass negotiated a contract with Progress Rail in May 2006 that contained an illegal forced dues clause that requires all covered employees, including nonmembers, to pay union dues or fees as a condition of employment. 
All four workers allege in the suit that when they started working at Progress Rail at various dates between December 2005 and August 2011, union officials informed them that union membership and full dues payments were a condition of their employment. 
And as a result, union officials confiscated up to $12,000 in illegal union dues payments from the workers' paychecks until October 2012, about two months after the workers found out about their rights under Utah's Right to Work law.
The four workers are asking the court to bar the company and the union from enforcing the illegal forced dues clause in the contract and to order a refund of the illegally-seized union dues.
Case highlights national importance of Right to Work laws
"For years, IAM Local 6601 union bosses kept workers in the dark about their rights and took thousands of dollars of their hard-earned money in violation of Utah's popular Right to Work law," Mark Mix, President of the National Right to Work Foundation, told the Salt Lake Tribune. "The union's careless disregard for these workers' rights underscores the need for more states to pass Right to Work protections for their workers."
Twenty-four states currently have Right to Work protections for employees. According to public polling, nearly 80 percent of Americans - and 80 percent of union members - support the Right to Work principle of voluntary unionism.
Moreover, Right to Work states consistently enjoy better economic performance than their forced unionism neighbors. Over the past decade, data collected by the Bureau of Economic Analysis reveal that Right to Work states   outperform forced unionism states in terms of private sector job creation.
Not only are more jobs created in Right to Work states, but employees' paychecks also go farther. A recent study from University of Colorado economist Barry Poulson found that households in Right to Work states have nearly $4,300 more in purchasing power than families in forced unionism states. 
"Not only do Right to Work laws boost economic growth and create jobs, they also strike at the very heart of Big Labor's government-granted power to compel workers to pay dues just to get or keep a job," said Mix.  "And the lawsuit in Utah goes to show just how important Right to Work protections are for workers who want nothing to do with forced-dues hungry union officials."